BACK TO NEWS
Office Booyz Industry Skate Contest, Round 2 @ ASR 2010 - Tales from the Sty


Office Booyz Industry Skate Contest, Round 2 @ ASR 2010 - Tales from the Sty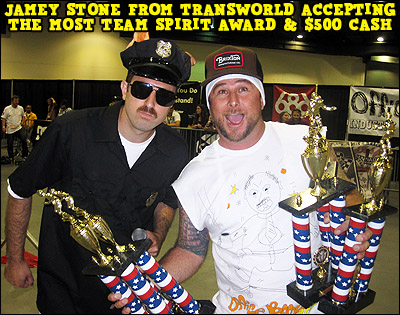 Enter Officer Pork:
BEEP...BEEP...BEEP...BEEP...SLAM...SLAM, SLAM!!! Officer Pork wakes up to the brutal buzz of his now half shattered alarm clock, a Sony Dream Machine, pulling his fist out of the leftover scraps of plastic and wires left behind. "Thank god for these Hello Kitty Band-Aids," he chuckles to himself as he grabs the box off his nightstand crafted of mahogany and bronze. Reeking of stale coffee, cheap Canadian Club whiskey and the hardcore streets of San Diego, Officer Pork rolls out of bed to the sweet smell of a morning star breakfast: a half eaten maple bar stuck to his side. He eats it.
"GOD DAMN SKATEBOARDERS!" he blurts out as he recalls the night before. "I can't believe I got blackmailed into announcing this thing...Office Booyz...or whatever the hell they called it."
Enter Narrator:
To shed light on the situation, Officer Pork was spotted rollerblading through the Gaslamp District of Downtown San Diego in full uniform the night before, waxing all ledges and handrails in his path. A group of desk jockies, who were in town for Office Booyz, caught him on camera and confronted the officer. Their proposition: MC at Office Booyz and they wouldn't send the incriminating video to the station downtown, not to mention posting it on YouTube. Pork pleaded for mercy as he was on his last straw with Captain Hooves. Being the good hearted Office Booyz they were, they came to a truce with Pork, and he hesitantly agreed. To show no hard feelings, the Office Booyz took him out for coffee at Maryjane's Coffee House down the way, and later made their way to Hooters for some wicked strong Canadian Club Sours and wings.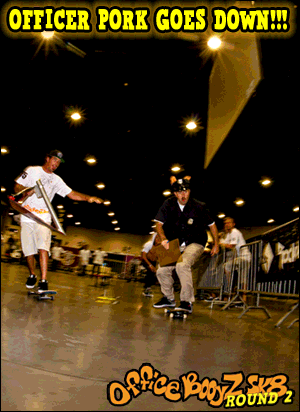 The Contest:
Office Booyz SK8, Round 2 @ ASR, stormed Hall H of the San Diego Convention Center Saturday, August 14, 2010, from 1-3 p.m. Office Booyz, for those unaware, is the one and only "fake" contest for full-time employees who work in the action sports industry. As many are now aware, the most talented rider will more than likely NOT win the best prize. Then again, it's Office Booyz and the judges are considered Gods in their 2 hours of fame, so anything is possible.
Office Booyz (OBz) started with a new twist this year. The winners of the Most Team Spirit award were announced before the contest even started! "Why?" you ask. Well, the crew at TransWorld SKATEboarding were the first to register as a team, and they registered early. Noting this fact, GIANT Office Booyz worthy skate trophies were ordered a month ahead of time, with their names engraved on them, and rightfully so. The funny thing is, the whole team wasn't even there once OBz started, so Jamey Stone, publisher at TransWorld SKATEboarding, accepted all five of the awards and the $500 CASH for their crew to split. Officer Pork was out in full effect and announced the good news. Congrats go to Jamey Stone, Blair Alley (who wandered in late), Mike Fitz (who couldn't skate due to appointments or hangover), Ben Kelly and Josh Brooks. Each of them also took home a bottle of Jager to help kick start a long and eventful Saturday night – ASR style.
Once the contest did start, a whirl wind of insanity ensued as 50+ Office Booyz took the course by storm. Officer Pork was spotted terrorizing the course, surprising the Office Booyz as they realized Pork could actually whip around a shred stick better than his blades. The on-lookers and Office Booyz alike cheered as Pork caught an edge when he went for a backside powerslide through the ghetto barrel; he slid across the floor like bacon on a hot skillet. "THE PIG GOES DOWN!" screamed Golden Voice, otherwise known as Seumas "The Sales Panther" Santoro, famous Podium Distribution sales rep and Office Booyz commentator.

* Slide Show Tips: click Full Screen Icon (bottom right), click "Show Info" for winner info and enjoy!
The judges were overly impressed with the skill being displayed during Office Booyz. It comes to show that even though real-life kicked in, these desk jockies stayed true to skateboarding and are still pushin'. Some notable tricks include: benihana over the bump to baby trash can (Bama from Black Box), b-side 360 over the same obstacle (Andy from DC Shoes), ollie up the manny to frontside 360 off (Doug Works of CBRE), front blunt slide nose grabber across the box (Chris Gonzales from Vans), sketchy 50-50 grind (Robert Crawford from VAS Entertainment), sick b-side disasters on the quarter (Ryan Clements from Skate Park of Tampa), no-comply pole jams (Pat Nagy from Black Label/Blitz), and many more.
The most gnarly trick of the contest came out of the blue when Cody Hager from Resource Distribution quarterpipe-launched out of the contest, flew up and over the walkway, landed in one of the OBz sponsors pop-ups, and carved hard right into the adjacent pop-up to tame his speed. No one knows how the hell he actually rode away from it, but nonetheless, he was rightfully crowned with the Brass Balls award and given $500 CASH from Core Action. You're an animal Cody! Watch out for Cody bumping Slayer with his new Rockford Fosgate Punch Plugs, and getting sauced off his bottle of Jager, which is surely gone by now.

Next up was a new division of Office Booyz, the Hour of Power (slide) contest. Though the powerslide contest only latest 10 or so minutes, these Office Booyz were literally sliding for days! Given the numbers of Office Booyz in the mix, the Hour of Power gradually morphed into a circular, roller derby style format where OB'ers would powerslide their heart out, get speed around the course, and give it a go again. There were quite a few slams and collisions, in which the Office Booyz chuckled like little girls as they fell and helped each other up. Some even towed their buds into the powerslide, and others fell over and hand-walked their way to the distance marker – good times for sure. When it came down to it, James Craig, TM and all-around marketing guy at Dwindle (not to mention pro skater), took the gold. Office Booyz goes by the honor system, so no measuring tape was used. Let's just say if you laid down, James Craig probably power slid about two full body lengths; it must've been that Dwindle recipe in the wheels.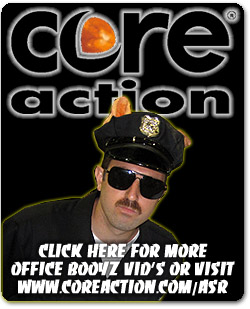 Last up was the infamous Office Booyz Game of S.K.8. That's like H.O.R.S.E. in basketball, just so we're clear. It was predetermined that this year's game was going to be legit, or at least somewhat legit, and only 10 people total would be allowed in. The top "4" from last year's Office Booyz were automatically entered, so Jason Rothmeyer (of Black Box/Skate Park of Tampa), Chris "Bama" Bodiford (from Black Box), Patrick "Patillac" Webb (from Element), and Mike Fitz (from Transworld)...oh wait...Fitz couldn't make it so Chris Klich (from Sk8ology/Aura Skateboarding) took his place. The remaining "6" were chosen on the spot, the Office Booyz way.
Six skate artifacts were spray painted gold and announced as the Golden Tickets into the Game of S.K.8. for $200 CASH. These included one skate deck, a bling-bling gold wheels necklace, and four smelly used skate shoes. Officer Pork called on the Office Booyz to gather around, and as soon as they got close enough, Pork and his co-conspirators launched the Golden Tickets into the air. "FETCH!" yelled Officer Pork, and fetch they did. If you were there to see the toss, it was reminiscent to a product toss at skate demo with a hundred middle schoolers, and from the looks of it these Office Booyz took it quite seriously! The six Golden Ticket winners were James Craig (no intro needed), Chris Gonzales from Vans, Scott Macky from HUF, Andy Beaumarchais from DC Shoes, Ollie Nguyen from LRG and Ed Devera from ATM Skateboards.
The competition was pretty Berrics 'esque with switch tre-bombs, ollie impossibles, nollie and fakie big flips, switch and regular frontside big spins, and more. Office Booyz dropped like flies, and it eventually came down to Chris "Bama" Bodiford from Black Box (Fallen) versus Andy Beaumarchais (DC Shoes). The tension was high as DC Shoes overcame Fallen Footwear on his last letter, and Andy was crowned this year's Game of S.K.8. Champion. Patillac brought the two together and raised Andy's hand high in the sky. The crowd cheered and the thunderous clacks of skateboards smacking the ground were a good sign that the Office Booyz were stoked for their fellow skaters in the industry and the event as a whole.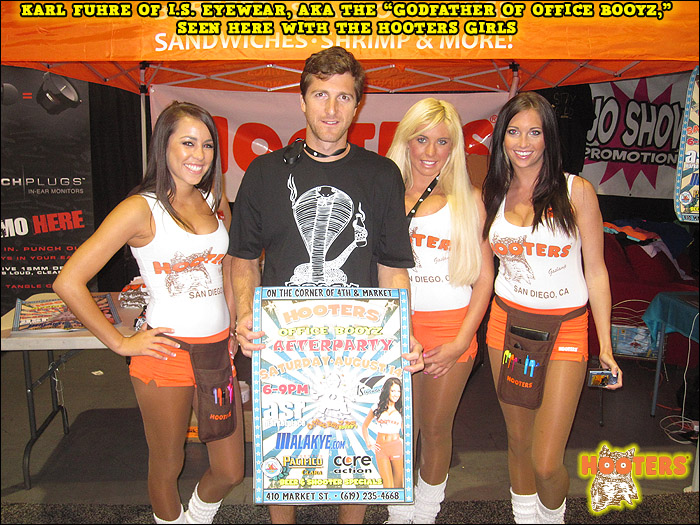 Post-Game/Award Ceremony:
Once the contest portion of Office Booyz was over, the judges and contestants refueled on the delicious hops of full-flavored Budweiser, complements of Malakye.com. Officer Pork and the panel of judges were welcomed with frosty brews from the hot a*# Hooters girls who came from their restaurant on 4th & Market in Downtown San Diego. These lovely girls supported the judges with their tough decisions at hand, and also helped hand out the awards. All in all, an Office Booy couldn't ask for more: a legit (yet fake) contest, being rewarded for the unthinkable, an epic session with friends and co-workers, pic's with hot Hooters girls, and coldies for all.
Until next time....Desk Jockies Unite!
* Slide Show Tips: click Full Screen Icon (bottom right), click "Show Info" for captions and enjoy!


Thanks to Our Sponsors for Bringing Office Booyz SK8 to Life!
• IS Eyewear: Karl Fuhre, the President & Founder of OFFICE BOOYZ)
• ASR: Dan Moylan, Paul Dillman, Lisha, Leanne & crew)
• Core Action: (Kyle Kennedy & crew)
• Hooters: Melissa Fry & Jessica
• Rockford Fosgate: Tammy Lowe & David Slepak
• Brian Wilkes Photography: for shooting Office Booyz & the ShmoozaPalooza.
• Sole Tech: Don Brown from Etnies
• Jägermeister: Steve Puente, Rick Zeiler & Adam Grayer
• INK FX: Mike Machrone for screen printing our OB & Malakye Wolfpack tees
• 686: Kristin Cusic & Mike West
• Spin Imaging: Teddy Monney, Eric Bond and Ruben
• Jo Show Promotions: Joanna Morse
• Meridian Graphics: Erik Phillips
• GoPro: Rick Loughery
• Element Drop Spot: Kristen Demko
• Black Box: Chad Foreman & Chris "Bama" Bodiford
• Powell Peralta: Michael Furukawa & Elliott
• NHS: HMC
• Attic Skate Shop: Brett Hamilton
• Die Cut Stickers: Ejay O'Donnell
---