BACK TO NEWS
EVENT: TransWorld WAKEBOARDING Celebrates Its Premiere Issue
TransWorld WAKEBOARDING Celebrates Its Premiere Issue

Be the first to check out the premiere issue of TransWorld Media's newest addition to the family, TransWorld WAKEBOARDING! On Thursday, September 9, the official rollout of TransWorld WAKEBOARDING will take place at the Orlando Watersports Complex from 6 p.m.-10 p.m. in Orlando, Florida. During the launch party, TransWorld will showcase its newly branded print issue and offer everyone free riding at one of the best cable parks in the world!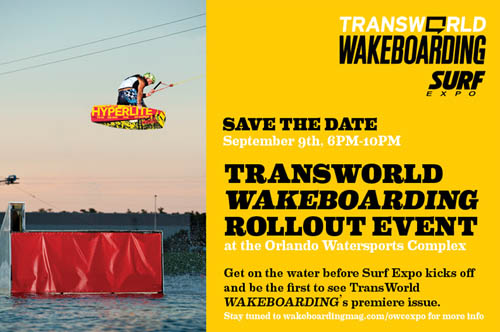 "Becoming a part of TransWorld Media will strengthen WAKEBOARDING's brand recognition and bring even more attention to our sport and industry," said Director of Brand Strategy, Matt Hickman. "Looking back as a lifelong participant in the sport, I'll consider this one of the greatest moments in wake history."

TransWorld Media, a leader in the action sports market for over 27 years, will integrate TransWorld WAKEBOARDING with its six other brands: TransWorld SKATEboarding, TransWorld SNOWboarding, TransWorld SURF, TransWorld Ride BMX, TransWorld Motocross, and TransWorld Business. By including TransWorld WAKEBOARDING into the TransWorld group, the brand will expand its reach to a larger audience as well as receive a fresh redesign that will complement the progressive look of the other TransWorld brands.
The premiere event will be kicking off this year's 2010 Surf Expo. For more information about TransWorld WAKEBOARDING's rollout event, stay tuned online at WAKEBOARDINGmag.com/owcexpo.

About TransWorld WAKEBOARDING:
Originally launched in 1993 by World Publications as WAKEBOARDING Magazine, TransWorld WAKEBOARDING was the first-ever nationally published magazine of its kind. In conjunction with the Pro Wakeboard Tour, TransWorld WAKEBOARDING continues to grow each year, bringing in a wide array of participants from all across the world.

About TransWorld Media:
Since 1983, TransWorld Media has been the world's leading action sports media company, serving over 27 million of the most passionate audience of skateboarders, snowboarders, surfers, wakeboarders, BMX, and motocross riders annually via Web sites, magazines, videos, and events.

TransWorld is a division of the Bonnier Corporation. Bonnier Corporation (bonniercorp.com) is one of the largest consumer-publishing groups in America and the leading media company serving highly engaged audiences through more than 40 special-interest magazines and related multimedia projects and events.

---