Back to News
TV: World Television Premiere "Firsthand: Ken Block"
September 13, 2010
World Television Premiere "Firsthand: Ken Block"
DC Shoes Founder And Rally Car Star Ken Block In FUEL TV's Original Series "Firsthand"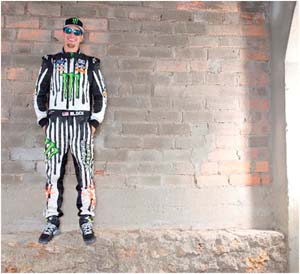 Co-founder of DC Shoes and WRC Rally Car racer Ken Block stars in FUEL TV's signature 30-minute series "Firsthand."
Watch as Block explains how he conceived the idea for DC Shoes and grew it to the powerhouse it is today. Then, dive into the world of rally car racing as Ken tears up tires, tarmac, and anything else he can burn rubber on. Check out his amazing skills behind the wheel as we look into the professional world of rally car racing that he has immersed himself into.
Block heads to Portugal's hillsides to rally the dirt roads in preparation for the World Rally Championship, where the best in the world compete for the championship. Watch as Ken goes head to head on the tarmac for the chance to be the best there is.
Then, we follow Block as he travels to Team O'Neil Rally School in New Hampshire to give rally car instructions to some of DC's top pros, including Olympic Gold Medalist Snowboarder Torah Bright, motocross legend Ricky Carmichael, snowboarder Devun Walsh, and surfer Julian Wilson. Finally, head West to the Motor City to get an inside look at Ken's 2011 Ford Fiesta Gymkhana car.
Ken Block's sponsors include: DC, Monster, Ford, Pirelli Tires and Castrol.
You can watch Ken Block's episode of "Firsthand" on www.fuel.tv and www.hulu.com several weeks after it airs on FUEL TV. It will also be available to download from iTunes for $1.99.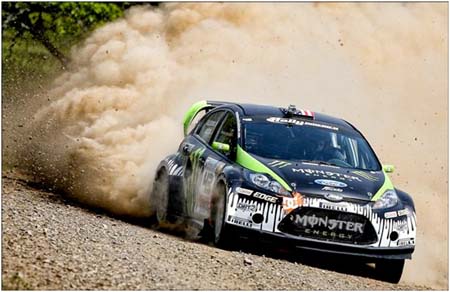 "Ken Block's Firsthand" Air Dates:
Sunday -9/12/2010 10:00 PM ET / 7:00 PM PT
Sunday - 9/12/2010 1:00 AM ET / 10:00 PM PT
Monday - 9/13/2010 10:00 PM ET / 7:00 PM PT
Monday - 9/13/2010 1:00 AM ET / 10:00 PM PT
Wednesday - 9/15/2010 8:00 PM ET / 5:00 PM PT
Wednesday - 9/15/2010 11:00 PM ET / 8:00 PM PT
Saturday - 9/18/2010 11:00 AM ET / 8:00 AM PT
Saturday - 9/18/2010 2:30 AM ET / 11:30 PM PT
Monday - 9/20/2010 9:00 AM ET / 6:00 AM PT
Tuesday - 9/21/2010 11:30 PM ET / 8:30 PM PT
Wednesday - 9/22/2010 12:30 AM ET / 9:00 PM PT
Thursday - 9/23/2010 7:30 PM ET / 4:30 PM PT
Friday - 9/24/2010 3:30 PM ET / 12:30 PM PT
Saturday - 9/25/2010 3:00 PM ET / 12:00 PM PT
Monday - 9/27/2010 11:00 PM ET / 8:00 PM PT
Tuesday - 9/28/2010 2:00 AM ET / 11:00 PM PT
Wednesday - 9/29/2010 9:00 PM ET / 6:00 PM PT
Thursday - 9/30/2010 8:00 PM ET / 5:00 PM PT
---