Back to News
B$Z: World's Top Snowboarders Wear RED Helmets
September 14, 2010
World's Top Snowboarders Wear RED Helmets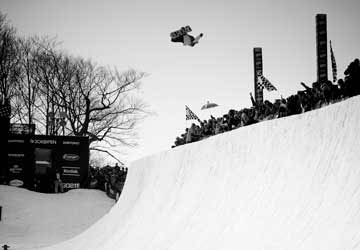 Besides plenty of world-class contest wins to their names, top snowboarders Shaun White, Peetu Piiroinen, Hannah Teter, Kevin Pearce, Danny Davis, Ellery Hollingsworth, Mikkel Bang and Kelly Clark have something else in common – they all wear RED helmets. And new for 2011, two-time Olympian and current Burton US Open champion Kazuhiro Kokubo is joining the ranks of the RED team.

"I rely on RED helmets every time I'm practicing new tricks and at competitions," says Kazu Kokubo. "Thanks to their comfortable fit and lightness, I can always focus on my best performance."

The RED Hi-Fi helmet is a team favorite, and the 2011 model includes a colorway by Shaun White, who has worn RED helmets since he was eight years old. The new Hi-Fi along with the rest of RED's 2011 product line is now hitting shops around the world.

Key 2011 tech features for RED helmets include the Air Band Fit System – a low-profile air fueled headband sandwiched between the helmet shell and eight anatomical pads that softly contour to your head for a perfect fit. Another stand-out feature available on all 2011 RED helmets is that riders can purchase speakers called REDphones™ to insert into their helmet for listening to music on the hill. For on and off-hill listening pleasure, riders should also check out RED's premium DJ headset. Just pop out the speakers and insert them in your helmet when you're on the hill, then put them back into the DJ headset when you're off the mountain.

With industry leading tech, design and fit standards, RED helmets have been the first choice of many of the best snowboarders on the planet for nearly 15 years. For more information on RED, stop by your local snowboard shop, a Burton flagship store or visit www.redprotection.com.

---