Back to News
B$Z: CONNECT SDSI's Walton Takes It To The Hill
September 16, 2010
CONNECT SDSI's Walton Takes It To The Hill
Walton briefs Capitol Hill on sports/action innovation policy priorities
NBA Hall of Famer Bill Walton presented two policy briefings on Capitol Hill to full audiences as part of CONNECT's new Innovation 101 Hill briefing series. Walton's identity as a sports legend converged with the topic of the briefing, Technology and Innovation in the Action and Sport Industry. The briefings took place in the Rayburn House Office Building and the Russell Senate Office Building to allow Hill staffers multiple opportunities to learn about innovation policy.

The briefings attracted nearly 80 Hill staffers and industry leaders to hear about the San Diego Sports Innovators and how Congress can address three of their most pressing policy concerns. In addition to Walton sharing his life story and UCLA Coach John Wooden's various maxims for life, Walton explained how intellectual property is critical to protecting the ideas of creators and innovators. He gave examples of how major companies like Nike and Callaway Golf products are pirated while reminding staffers that start-up companies don't have the resources large companies do to go to China, Russia, Brazil and other countries to protect their IP. He asked Congress to give their full support to U.S. Trade Representative Ron Kirk and newly confirmed IP Enforcement Coordinator Victoria Espinel in their efforts to enforce American IP rights globally.

Walton also educated the audience on the importance of Angel investment to SDSI companies and implored them not to further harm Angel investors by increasing the income and net worth requirements. He reminded the audience that just a few months ago Congress passed and the President signed, the Wall Street Reform bill that will eliminate some Angel investors especially in areas like San Diego by excluding the value of an investors primary residence in the net worth calculation. Continuing on his theme of the importance of access to capital for small innovators, Walton called on the SBA to work with SDSI companies to consider new loan guarantees for companies that are so early-stage, they have no hard assets which are currently needed to qualify for SBA loans.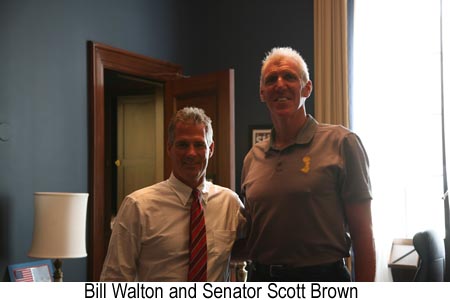 Finally, Walton explained that San Diego innovation companies need more scientists and engineers that can help the produce more innovation but simply can't find enough American-born workers to fill their research needs. Until America's STEM education improves and produces the next generation of Thomas Edisons, Congress should pass the STAPLE Act and Start Up Visa Act. The STAPLE Act would allow foreign-born PhDs with U.S. degrees to stay in the U.S. if hired to work in the U.S. in a STEM related field. The Start Up Visa Act would allow foreign-born entrepreneurs greater opportunity to start a company in the U.S. and stay in the U.S. backed by American Angel/VC investors.

CONNECT Public Policy Director and Chief Counsel Timothy Tardibono was grateful for Walton's assistance, "Bill Walton captivated both House and Senate audiences with his personal story and Coach Wooden's wisdom while also articulating a sound innovation policy agenda that Hill staffers can share with their Congressmen and Senators. The Hill now knows who CONNECT is and we are already getting requests for follow-up meetings from staffers that attended."

Click here to see media coverage of the event from a leading Capitol Hill tech blog.

---