Back to News
TV: FUEL TV Encores "Built To Shred" with 13 New Episodes
September 23, 2010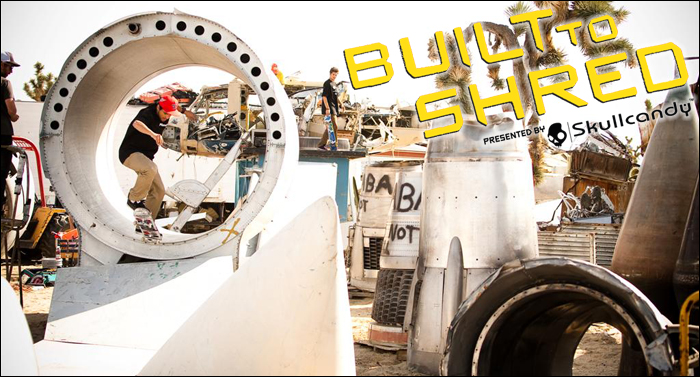 FUEL TV Encores "Built To Shred" with 13 New Episodes
Season premieres Sunday, September 26, 2010, 10:30pm ET/PT
FUEL TV's popular series "Built To Shred" presented by Skullcandy, makes its return Sunday, September 26, at 10:30pm ET/PT. "Built To Shred" is the world's first build-and-ride sports show featuring top skateboarders and alternative-sport shredders. Hosted by master craftsman and skateboarder Jeff King, the new season promises bigger builds, more sports, and more once-in-a-lifetime obstacles ridden by adrenaline sports icons like legendary skateboarder Tony Hawk, Ryan Sheckler (MTV's "Life of Ryan"), X Games Gold Medalist Paul Rodriguez and others. "Built to Shred" is not your average run-of-the-mill "how-to" show. It's fun, fast-paced, exciting and truly radical.
"We're excited about the new season of 'Built To Shred'," says Shon Tomlin, FUEL TV's SVP of Programming and Marketing. "There are a lot of build-it-yourself type shows on television today, but none offer the excitement, action, creativity and entertainment that 'Build To Shred' offers. This season the show features the best surfers, BMX pros, and skateboarders like Tony Hawk, Bucky Lasek, BMXer Mike 'Rooftop' Escamilla, and snowboarder Marc Frank Montoya riding what I like to call 'architecture meets anarchy'."
"I'm so lucky to get to work with some of the biggest names in skateboarding, snowboarding, and BMX," says "Built To Shred" Host Jeff King. "We've gotten to build some amazing obstacles for guys to ride, like putting a wall ramp over Tony Hawk's pool and watching him splash down trying to ride it! The session in the abandoned prison was a little creepy, but taking over a pirate ship and making it a skateboard park was probably the coolest thing I've ever done."

King is a well-known veteran skater with more than 15 years experience designing and building custom props for the skateboard world and has been featured in countless skateboarding publications, videos and television segments. His fame in skateboarding as a ramp builder immortalized him as an animated character in Tony Hawk's "Proving Ground" video game.
Make sure to check out FUEL TV for the best surf, skate, snow, wake, BMX, and motocross on television with season 3 of "Built To Shred" beginning Sunday, September 26, 2010. Original episodes premiere Sunday nights at 10:30pm ET/PT and re-air several times throughout the week. Episodes of "Built To Shred" are available on iTunes for $1.99. They will also be available on www.fuel.tv and www.hulu.com several weeks after they air on FUEL TV.
---