Back to News
Moverati with Sales & Marketing Manager Kyle Kennedy
October 1, 2010


Ever wonder what it'd be like to get footage of yourself doing what you love without the need of a camera or filmer? How about reaching a targeted audience using live, branded videos at events which also can be shared virally across the web? Moverati can fill this need using its fully automated video system that does exactly this and much more.
With Moverati, the possibilities are endless. Whether it's skate, surf, snow, running, cyclying, triathalons, MX, FMX, live events or even autograph signings, Moverati's system can pretty much be incorporated into anything. Kyle Kennedy, sales and marketing manager at Moverati, joins in to describe how the system works and its benefits to marketers and venues alike. Here's Kyle with the latest.
What is Moverati?
Moverati is a fully automated video system merging next generation media with social media features.
Most recently known as Core Action, why the new direction?
We are looking at the bigger picture with new verticals to go into, outside of action sports specifically. It is a little more universal and relative.
At what locations can Moverati be found?
Right now we are live in 5 skate parks: Eisenbergs and Southside in Texas, Skate Lab in California, 3rd Lair in Minnisota, and Windell's in Oregon.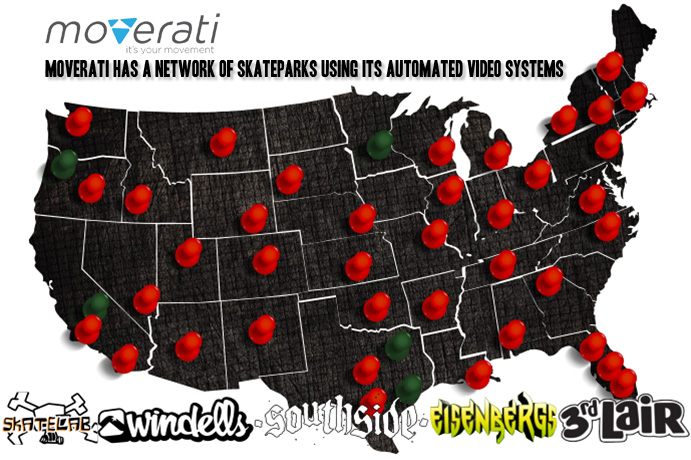 How does the system work?
RFID technology is the magic behind Moverati. RFID (Radio Frequency Identification) is used in several industries for tracking products in shipping, timing for running races, and in lift tickets at ski resorts. We use RFID tags that are read by antenae readers to activate our cameras in the parks. So in skate, the RFID tag is a sticker that is placed on a kids helmet (or board) in a park. He skates a zone that is powered by Moverati and the readers pick up the signal, records the action, replays on our 9 x 11 projection screens in the park, and uploads the clip to the web to be shared on the Moverati site and other social media sites of choice. These clips are all edited from beginning to end using our copywrited software.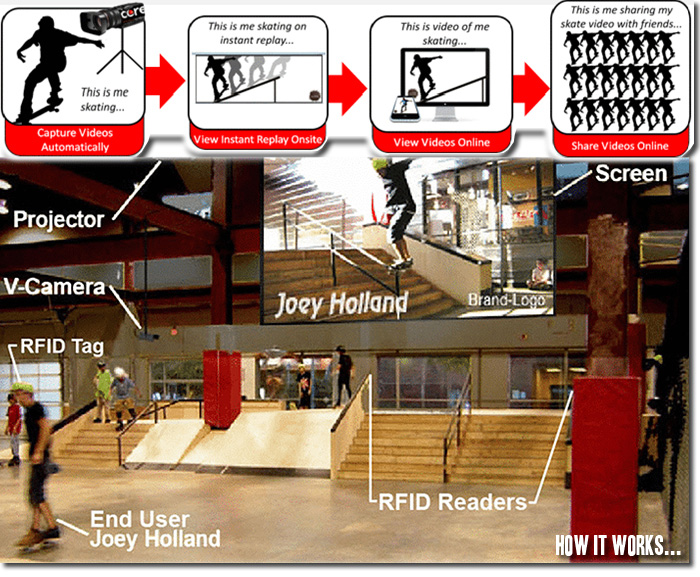 Once the footage is uploaded to the site, what's the next step?
Users create a profile to access their vids. They can then share their vid's with friends on www.moverati.com or other social media sites of their choice. Editing capabilities is in the near future so they can also compile edits with music and graphics.
Are the clips editable in most video editing programs?
Yes. They work in basic programs like iMovie and more advanced ones like Final Cut.



What markets is Moverati in?
Skate, surf, snow, running, cycling, triathalon, MX, live events, and more in the works.
What's the latest news on this front?
The new site is launching litterally as I type. Tons more capability!
How is the program monitized? Do the skaters pay?
This is a pay per use structure. You buy a tag and start generating vids. There is no limit on the amount of content that can be created. There are also unique opportunities for brands to connect with users at the skateparks through advertising on the big screens and branding the videos, a true marketing tool to connect video and social networks.
What incentives are there for prospective parks/clients to sign up?
There is nothing like this out there, a first in all industries. Content is king and kids can automatically capture, edit and replay without a camera. No moms or dads involved. The venues are then promoted through the videos, website and on the other social media sites, and the users are doing all this for the venues indirectly.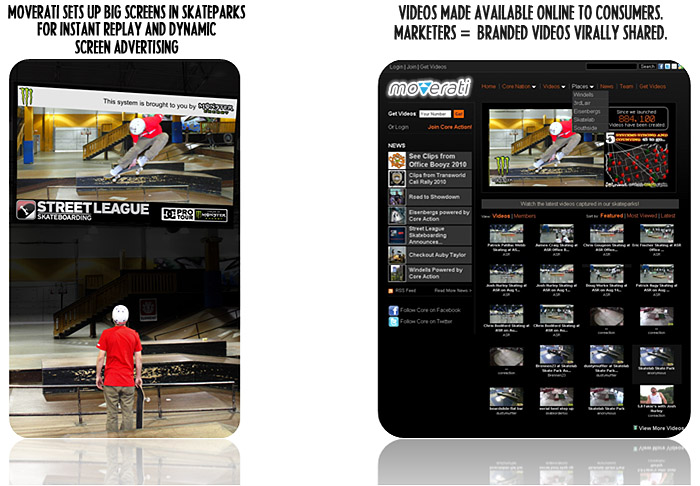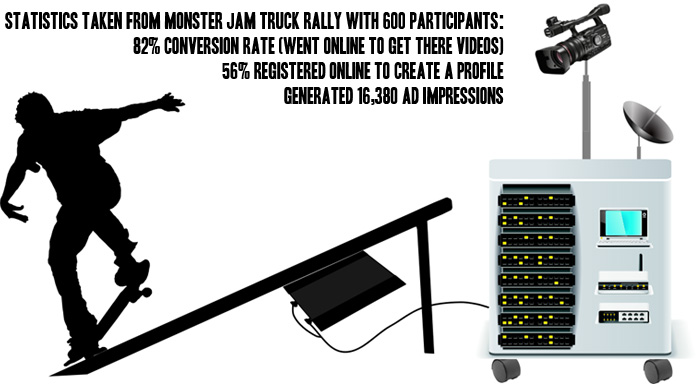 What's next on the Moverati frontier? Reality TV perhaps?
What isn't next! There are too many places to take it. Golf (driving ranges for swing analyzing), auto racing, we have even done some autograph lines capturing the interaction between the fans and athletes.
When Moverati looks to acquire talent, what will be the next positions to be filled?
Sales and marketing are key with a new company reaching out to several different industries. IT and programming is another department that would need support as we grow into new sectors.
---