Back to News
TV: Street League Grand Finale
September 30, 2010
Shane O'Neill Wins Grand Finale of Street League DC Pro Tour Fueled by Monster Energy; Nyjah Huston Captures Overall Tour Title

Catch all the exciting action tonight, Sept. 29 at 8pm ET/5pm PT on ESPN2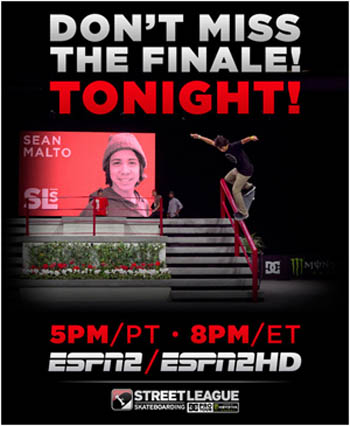 For the third consecutive event, the winner of Rob Dyrdek's Street League DC Pro Tour Fueled by Monster Energy was determined on the final two tricks.
Fans of Street League can catch all the complete coverage from the tour finale tonight Wednesday, Sept. 29 at 8pm ET/5pm PT on ESPN2. The compelling 90-minute show, hosted by Street League founder Rob Dyrdek and Steve Berra, features every moment of the tour's finals and the world's best skateboarders battling it out for the most prize money in history with a real-time instant scoring format that makes every trick count.

The ISX instant scoring system was in overdrive on Saturday as Chaz Ortiz, Cole, and O'neill all jockeyed for the lead. And it all came down to the final two tricks on the fourth and final section — watch how the final stop of the historical series went down tonight on ESPN2, Wednesday Sept. 29th at 5pm PT/ 8pm ET.
Rob Dyrdek's $1.2 million Street League Tour features the introduction of instant scoring format that allows competitors and viewers to follow the action trick-by-trick with exciting ranking changes from the beginning to the very last trick of each event. Street League Skateboarding features the exclusive participation of the world's top street skateboarders ranging from familiar contest stars like Ryan Sheckler and Chris Cole to core street skateboarders like P.J. Ladd and Dylan Reider. For more information please visit www.streetleague.com

---