Back to News
WEB: K2 Skis Unveils Grom Inspired
September 30, 2010
K2 Skis Unveils Grom Inspired Website for Young Ski Addicts
K2 Sports launched its youth focused, destination website today K2Groms.com. The website is a platform for the K2 Brand to communicate its message and goals with the future's best of skiing, snowboarding and inline skating while creating a fun, educational portal for little rippers.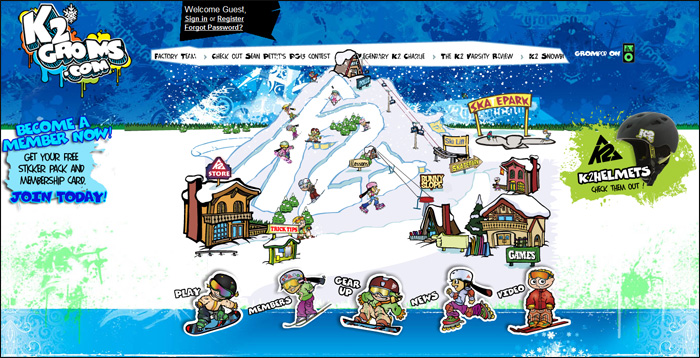 The goal of K2Groms.com is to create a content rich environment that will engage the youth (6-12) demographic and keep them coming back to the site on a daily basis. The site features a gaming area with three K2 specific games, a video portal that showcases video content from all K2 brands, an online store to purchase K2 Groms gear and a membership area that enables kids to select their own K2 Groms avatar, register to become an official K2 Grom, and receive a free K2 Groms sticker pack and membership card.

The long-term plans for K2Groms.com include a constant evolution of content, games and media that attracts a loyal fan base and online community. As the site grows, K2 will have the capability to track user gaming scores, award prizes and create contests for card-carrying K2Groms.com members. Check out K2Groms.com and pass the web address on to the future of our sports.

---