Back to News
EVENT: 3rd Annual California Surf Festival
October 4, 2010
California Surf Festival 3rd Annual
BIG Wave Night Best of El Nino | SUP World Premiere Destination 3 Degrees | Donavon Frankenreiter In Concert | Big Shorts From Little Grom Film Contest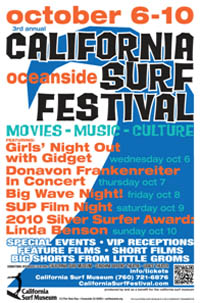 The California Surf Festival is preparing for the biggest year ever in its fundraising efforts for the California Surf Museum, one of the oldest surf museums in the United States. The dates for this year's Festival are October 6th through October 10th. The five days of the Festival include music, surf films from around the world, art, photography, special events and VIP receptions.
Special events include: Girls Night Out with a San Diego County premiere of the Accidental Icon: The Real Gidget Story; Big Shorts From Little Groms – a grom filmmakers' film contest; the California Surf Museum's 2010 Silver Surfer Award presented to surfing legend Linda Benson; Big Wave Night featuring footage of the biggest paddle-in surfing from last winter; and, a world festival premiere of the first-ever feature film on stand up paddling. Come experience some of the most exciting presentations ever in a film festival at this year's California Surf Festival.
With films from France, South Africa, Japan, New Zealand and waves from all over the world, this truly is a worldwide surf film festival and it is taking place in Southern California. Many special guests will be on hand for the five days as the music, art, photography, history, culture and films of the surfing lifestyle are celebrated at the 2010 California Surf Festival in Oceanside, California.
Opening night is all about the ladies with
Girls Night Out on Wednesday, October 6th at the Sunshine Brooks Theatre.
How did this fun-loving girl from Los Angeles, who just wanted to surf, become an icon that inspired women all around the world to ride the waves? The San Diego premiere of Accidental Icon: The Real Gidget Story, shares the story on how Gidget, aka Kathy Kohner, shared her beach stories with her father — a screenwriter — who then wrote a book about his daughter. It changed the world for women in the water and on TV, and made her an icon in movies, songs and fashion. With appearances by James Darren, Micky Muñoz, Sally Field and Mike Doyle, and directed by Brian Gillogly, the true story will make you appreciate how Kathy paved the way for women in the water. Both Director Brian Gillogly and Gidget will be on hand at this premiere event. A VIP Reception at the theater precedes the screening and will feature a spa atmosphere with mini massages.
Donavon Frankenreiter In Concert, Thursday, October 7th at the Grace Theater.
Super cool dude, hot surfer and all-around Aloha guy, Donavon brings rock-n-roll to this year's Festival in a musical evening. He will be performing songs from his new CD, GLOW, to be released October 5th. Donavon has a number of popular tunes; currently his song "It's Gonna Be A Lovely Day" is featured on the Robbins Brother TV ads that have became a hit, watching young couples getting engaged. This will be his first stop on tour as he shares the new songs from GLOW.
Big Wave Night, Friday, October 8th at the Grace Theater,
will take a look at the big waves from last year's El Niño season with paddle-in surf at Jaws, Mavericks and the Todos Santos Big Wave Contest. See amazing footage of record-breaking waves from this past year's El Niño storms, with brave and skilled riders from all over the world. Many of the big wave surfers will be in attendance: Rusty and Greg Long, Derek Dunfee and Maya Gabeira are confirmed to attend. Screening Down With the Ship by Derek Dunfee and premiering Super Natural, Powerlines Productions presents the Best Waves of El Nino 2009/10 at Mavericks and Pe'ahi (Jaws). Oceanside surfboard shaper Gary Linden, the Big Wave World Tour Director, will be the evening's host. This evening is presented by Jim Bean Big Wave World Tour and a special drink containg Jim Beam and created by Gary Linden called "The Hold Down" will be served at the VIP reception.
SUP Night with the World Festival Premiere of Destination 3 Degrees, Saturday, October 9th, at the Grace Theater.
300 miles, three degrees of latitude, and the adventure of a lifetime: in April 2010, two elite stand up paddlers left the big island of Hawaii determined to paddle from there to the northern most island in the chain, Ni'ihau. Their goal was to raise awareness and support for the Algalita Marine Research Foundation, an organization dedicated to studying the effects of plastics in the ocean. Directed by Chris Aguilar, this is the story of two women striking out across three degrees of latitude on the adventure of a lifetime. Starring Morgan Hoesterey and Jenny Kalmbach. Morgan and Chris will be present at this premiere event.
Big Shorts From Little Groms, Sunday, October 10th, at the Sunshine Brooks Theatre,
the grom film contest for filmmakers 19 and under who make action sports films five minutes and under. This is the second year of this contest and last year's winner, now 17-years-old, is a part of the Billabong film-making team. Two of the films from last year's contest were screened at the X-Dance Action Sports Film Festival and other international surf festivals. Congratulations to those 14- and 16-year-old groms! 2010 contest sponsor, Transworld Surf, will be playing the winning film on the Transworld website. The winner will receive a custom surfboard shaped by SIMR Surfboards of San Diego.
California Surf Museum's 2010 Silver Surfer Award presented to Linda Benson, Sunday, October 10th, at the Sunshine Brooks Theatre.
This award goes to a person who has shown service, aloha and honor within the sport of surfing. Linda Benson is a successful surfer and contest winner, surf contest promoter, humanitarian, former Homecoming Queen, and has been a pillar within the surfing community. She has been a worldwide inspiration to women in surfing — sharing both her talent and her giving spirit. Gary Linden, last year's Silver Surfer Award recipient, will be presenting the award to Linda.
Some of the newest surf feature films from all over the world are set to screen:
My Eyes Won't Dry 3 by Brian Conley.
A San Diego local, Conley is known for getting shots so far back in the tube, you can't get much deeper — he has a tubular addiction. Fun, dangerous and exciting surfing!
Scratching The Surface by Matt Beauchesne and the Irons Brothers.
The story of Julian Wilson, the young surfer from Down Under, and his promise of an exciting career in the surfing industry. Julian is said by some to be the next Kelly Slater!
Idiosyncrasies by Patrick Trefz.
Through their art and music, and lifestyle choices, Trefz offers an intimate look into the vital and intriguing lives of surfers. With Leanne Curren, Christian Beamish and Richard Kenvin.
Fiberglass and Megapixels by Derek and Craig Hoffmann;
San Diego County Premiere. Swarms of photographers arrive in Hawaii every winter to focus their cameras on the best surfers in the world — all working to get the right shot for the season. Winner at X-Dance Action Sports Film Festival, Malibu Film Festival, Byron Bay, Australia Film Festival, and more.
Somewhere Near Tapachula by Jonno Durant and Stefan Hunt;
San Diego County Premiere. Alan and Pamela Skuse left their home in Australia to volunteer at an orphanage in Tapachula, Mexico. Now 10 years later and with over 50 children, they share their lives, love, hope and surfing!
Japan: Style Is Everything by Yoshitaka Itoi / Japan;
North American Premiere. Japan and surfing are still a mystery to most surfers; we'll see the waves in the land of The Rising Sun, with rides by Christian Wach, Noah Shimabukuro, Tyler Warren and the top Japanese surfers to date. Japanese surf makes the mainstream!
Last Paradise by Clive Neeson; San Diego County Premiere. Last Paradise presents a journey of extreme sports pioneers, in stunning original footage from Australia and New Zealand. Winner at X-Dance Action Sports Film Festival.
God Went Surfing With The Devil by Alexander Klein;
San Diego County Premiere. This film charts the difficulties and dangers encountered by surfers in the Gaza region. Along the way it speaks to Israelis, Arab-Israelis, and Palestinians affected by the violence, charting their daily struggle to supersede the conflict through the joys of surfing. We are one in the water!
Westsiders by Josh Pomer;
San Diego County Premiere. The original Mavericks crew shows the heart and soul of extreme surfing and living, making their marks in and out of the water. With "Flea" Virostko, Jason "Ratboy" Collins, Vince "The Godfather" Collier, and Shawn "Barney" Barron.
Hana Surf Girls by Russ Spencer;
San Diego County Premiere. Lipoa Kahaleuahi and pro surfer Monyca Byrne-Wickey, have grown up in the paradise of Hana on the Island of Maui. Both girls strive to create an adult life in which they remain true to their Hana roots. Their quest is deeply affected by Hana's strong power of the land, mana, and by their own inner strength and resilience.
Fun and exciting short films set for the California Surf Festival are:

I Like to Surf by Jack Coleman,
World Premiere
Ice Boards by Ross Frylinck and Zaheer Goodman-Bhyat
/ South Africa, San Diego County Premiere
Surfing Dolphins by Greg Huglin,
San Diego County Premiere
Lino by Kareem Rajeeb
/ France, San Diego County Premiere
Tarp by Korduroy.TV by Cyrus SuttonCy's Sunrise Lefts by Korduroy.TV by Cyrus SuttonI Surf Because series with Taj Burrows, Donavon Frankenreiter, Andy Irons, Parko, Rasta, and Wade Goodall by Billabong,
World Festival Premiere
Trailers of new films will also be screened, including: Deeper Shade of Blue by Jack McCoy, Cold Thoughts by Timmy Turner, Tip to Tip by Rip Curl, King Of Pavones by Love Machine, Switchfoot Bro Am by Love Machine, and Project Kaisei by Pete Crowley.
The California Surf Festival would like to thank the many people and organizations supporting this fundraising event for the California Surf Museum. Thanks go to: Jim Beam and the Big Wave World Tour, Transworld Surf, Kona Brewery, Luna Bars, Smartwater, Barefoot Wines, Fish Joint/Hill Street Café, Bull Taco, Wahoo's, Mary's Lumpia, Sticky Bumps, VAS Entertainment, Holiday Inn Marina, Marriott Oceanside, Wyndham Oceanside, Motel 6 Oceanside, Ecousable Bottles, Bony Açai, EmergenC, SIMR Surfboards, The Island Image, Popchips, Jetty Girl, Surfers Village, Surfline, TheInertia.com, and the many more whose support make this event possible.
Tickets are available online at
www.californiasurffestival.com
. For more information please call the California Surf Museum at (760) 721-6876.
---