BACK TO NEWS
EVENT: Fanning Win's Over Slater at the Quiksilver Pro France
Fanning in Stricking Distance Afrer Win Over Slater at the Quiksilver Pro France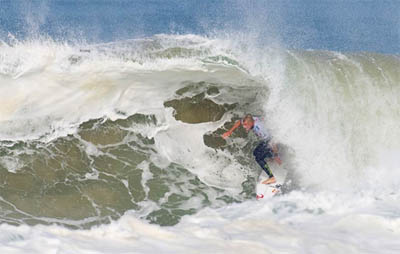 The current two-time ASP World Champion, Mick Fanning, and former nine-time ASP World Champion, Kelly Slater, battled it out in sizeable 6 to 8 foot barrels at Les Culs Nus Beach in Hossegor, France this past weekend. Fanning fought hard and found his rhythm in the dramatic conditions overtaking Slater for a first place finish. The result provided an ASP rating shift from 5th to 3rd, making a third world title for Fanning well within reach.
The Quiksilver Pro France yielded some of the most contestable but challenging waves of the entire 2010 ASP season, producing an ultra competitive environment for the world's elite to perform at their very best. Fanning was able to navigate the shifting swell and heavy barrels, putting up his best two scores, a 7.17 and a 9.73, to overtake Slaters 6.74 in the final round. The storybook pairing of a Fanning and Slater final didn't disappoint despite the disparity in points as both competitors put on a quite a show for the hoards of spectators on-line and at the beach.
This wouldn't be the first time Fanning supercharged a last quarter push for a world title. It was this time last year that Fanning picked up steam as he won the Hurley Pro at Trestles, the Quiksilver Pro France and then the Ripcurl Pro Search at Portugal.
"I've still got a lot of work to do and the other guys have a couple of Finals on me," said a focused yet humbled Fanning. "I'm going to go to Portugal and have a lot of fun."
Will history repeat itself? Stay tuned as Fanning heads to the Rip Curl Pro Portugal as he continues his campaign for a third ASP World Championship.
---