Back to News
B$Z: Globe Wins TransWorld SURF's Inaugural Imaginarium Ultimate Photo Challenge!
October 5, 2010
Globe Wins TransWorld SURF's Inaugural Imaginarium Ultimate Photo Challenge!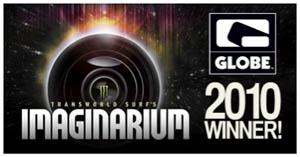 In the tradition of TransWorld's groundbreaking photography contests that include TransWorld SKATEboarding's 'Skate And Create' and TransWorld Snowboarding's 'Team Shootout,' here is the first-ever surf photography challenge that tests the surfers, the photographer, the brain-trust at each company, and eventually the reader—hopefully changing the way we all view surf photography.

Three teams of four surfers started their photographic journey by picking (at random) their "theme color," which was dictated by one of the four colors of the CMYK color model: cyan, magenta, yellow, and black. After picking their "theme color," teams were given a month timeframe where they let loose on the world and had to choose the location to shoot their piece, resulting in an eight-page showcase in TransWorld SURF magazine, and a video and a gallery on transworldsurf.com. The winning team's best shot was showcased on the cover of TransWorld SURF.

At the end of the judging period, it was Globe taking top honors with their interpretation of magenta. "Globe's entry titled 'Ungu' exemplified exactly what we were looking for in this contest," said TransWorld SURF's Editor in Chief Chris Cote. "We want this contest to push photographers, art directors, and surfers into creating unique and exciting layouts as well as mini-films to the next level. Selfishly, I'm stoked that we get to spotlight these amazing images in our magazine, but on a larger scale, I'm really excited that we get to be the catalyst for a project that will help progress surf photography as a whole."

The winner received a coveted spot on the cover of TransWorld SURF as well as an invite to next year's Imaginarium. "We are so excited to be a part of the Imaginarium project and the fact that all our hard work (and weird ideas) paid off and got us the win is absolutely incredible," said Globe's 'Ungu' Director Joe G. "We're really proud of what we did with 'Ungu' and we hope it inspires other photographers, filmmakers, and surfers to push the art form and not be afraid to try new things. I have to give the warmest and biggest thanks to Globe, TransWorld SURF, and every single person who busted their butts to make this idea come to life. It was truly a pleasure working on this project and we can't wait for next year!"

To see all the Imaginarium entries, behind the scenes galleries, and videos, go online to transworldsurf.com. Make sure to grab a copy of the inaugural Imaginarium December issue and subscribe to TransWorld SURF online at transworldsurf.com/subscribe.
---