BACK TO NEWS
Industrial Profile
10/6/2010
Project OR - Amy Bittner
Project OR – Amy Bittner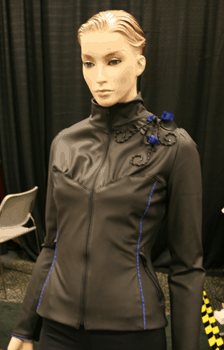 Amy Bittner, a fashion design student at the Fashion Institute of Technology (FIT) in New York City, entered the Project OR Apparel Design Contest on Malakye.com and was selected therein to compete in Project OR at Outdoor Retailer's Summer Market 2010. Project OR is a 48 hour design contest in which six people from across the U.S. were selected to compete head to head. Each contestant was given a design brief and had 48 hours to complete a design prototype, from concept to finished garment. In this interview, Amy shares her experience at Project OR. Though she did not win this year's competition, Project OR provided her invaluable connections and on-the-draw experience that will help jump start her career after graduating in Spring 2011.
Malakye.com will be selecting another person to compete in Project OR at Outdoor Retailer in January 2011, so keep an eye on the site for your chance to enter the competition! (Pictured Right: Amy's final design)
What was the objective of your design brief for Project OR?
The design brief asked us to create a jacket for "Becky," a graphic designer who lives in Boston. She recently moved 5 miles outside the city and now commutes to work via her bike. She would like a jacket that is multi-functional; something that will not only protect her from the elements, but also fashionable so that she can wear it out for drinks with co-workers. She often rides home after dark, so reflectivity also played a role in the design. The final aspect to the design brief was to think about sustainability, as "Becky" is extremely environmentally conscious.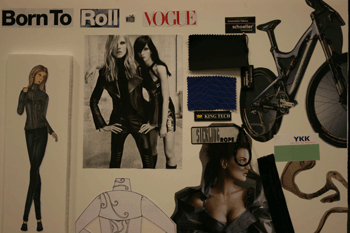 What was the inspiration of your design?
I design in one of two ways: either I sketch an idea and then find suitable fabrics, or I find an amazing fabric and then sketch around the components of the chosen fabric. In this case, we were limited by the fabrics that were donated to the competition, so I chose to be inspired by the fabric. I was immediately drawn towards the darker colors, seeing as "Becky" lives on the east coast. Having researched trends before my arrival in Utah, I knew that leather was still playing a large role in current fashions. As I was digging through fabrics, I found a polyurethane-based material made by Schoeller that was water resistant, wind resistant, retained heat, and resembled leather. I coupled that with a blue reflective material by King Tech, and sought to bring a touch of couture to a performance-based industry. Since I specialize in Intimate Apparel, I wanted to add a touch of femininity while also staying true to the customer desires. To bring in sustainability, I incorporated a reflective nylon-based cording used in rock climbing into the embellishment. This kind of embellishment would be an environmentally friendly alternative for the short-ends that are left over from production. This was a chance to show true innovation and get critical feedback from industry professionals.
You stuck with a high-end couture design when everyone else produced something that was more inline with what would be accepted in the market now. Why stick with that instead of going for something that would be more "market ready?"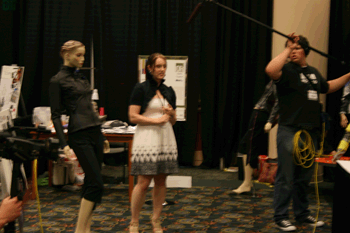 When I presented my garment to the judging panel, I stressed that this garment fills a white space in the performance industry. There are VERY few companies that are tapping into the potential of a high-end outerwear line that embraces both fashion and function. Just because it is a performance-based garment, it doesn't need to look like one.
Another key point to the design brief was a section called "Price." It mentioned that "Becky" was willing to spend the money for a garment that was multi-functional and fashionable. So I figured if she was willing to spend the money, why not go for it?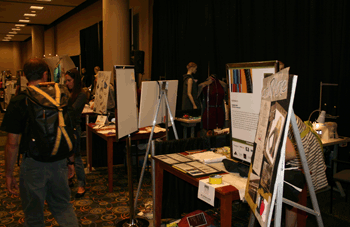 What did you think of the timed format? Did you feel pressure?
The timed format made the competition so much more exhilarating! It's hard to force creativity, but when you only have 3 hours for concept and presentation, you really have to pull out all the stops! From talking to Faith Anderson, last year's winner, I found out that all the contestants had to pull an all-nighter the second night and still had trouble finishing their garments on time. Armed with this knowledge, I chose to stay up all night the first night, telling myself I could only sleep when the garment was done. It is really hard to judge how much time it will take to construct a garment, especially since you always hit problematic areas along the way. If I needed to stay up the entire 48 hours, I was prepared to do so. Luckily, I finished the jacket in about 36 hours, and was able to get a good night's rest the second night and prepare for the presentation phase. I was able to spend the final hours of the construction phase talking to viewers and networking with industry professionals who stopped by to see the progression.
Although I have to admit, 48 hours is NOT the shortest amount of time I've had to make a garment! I once created an embellished twist dress in a mere 24 hours at FIT.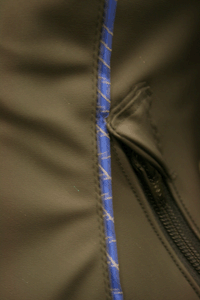 How was it getting to select materials of your choosing?
I was genuinely surprised by the variety of fabrics and materials that were donated to the competition. I chose to gather my materials first, visiting vendors and begging for supplies! I had to track down some nylon cording for my embellishment and none of the "Designated Suppliers" brought any extra to the show! So I headed onto the open floor and found the Sterling Rope booth. I explained my design, concept, and the parameters of the competition, and was shocked by how willing they were to help out! By having to gather our supplies and materials, we made valuable networking connections we will carry with us throughout our design careers.
What was the highlight for you of the whole experience?
The highlight for me occurred after the competition was over and I found out I didn't win. A gentleman from JRC Reflex approached me and asked if I would be willing to recreate my jacket using their materials! Not only will I be compensated, but also my jacket will be used as a display piece at upcoming tradeshows! Talk about OPPORTUNITY!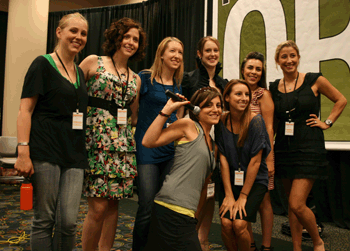 You're headed back to school at FIT in the fall, what from this experience will you take with you for your last year, and also in to your career?
I bring back to FIT an understanding of performance fabrics, sustainability, and how large of a role functionality plays in the world of fashion. The experience of competing in Project OR is something I will never forget. The friends and professionals I met will be my connections today and for the rest of my career. I have learned how to accept criticism, and actively use it to better my design. I know that you can't design for everyone, and although I did not win, I turned a lot of heads and was met with a lot of enthusiasm and encouragement. I can only hope that I will be able to help to bridge the gap between fashion and function.
What are your goals after graduating next Spring?
Although I cannot be certain what opportunities will arise after graduation, I certainly have hopes, dreams, and aspirations.
A personal goal I have is to never lose the calluses on my fingertips. There is something about pursuing a garment from concept to finished masterpiece that satisfies me as a designer. I sincerely enjoy the hours of tedious hand-sewing and labor-intensive construction. Although I know realistically, I may never find this kind of opportunity in a career; I hope to always pursue this goal by working one-on-one with individual clients to create unique breath-taking pieces.
Ultimately I hope to work for a company that allows me to truly design. So many companies merely copy existing garments, offering little or no creativity to the designer. I have a genuine addiction to creativity. If I don't feed it and release it, I will go through withdraws. It is this addiction that inspired me and in all reality forced me into my career path. I know no greater happiness than being in love with what I do.
---