Back to News
Keep A Breast Foundation with Founder Shaney Jo Darden
November 1, 2010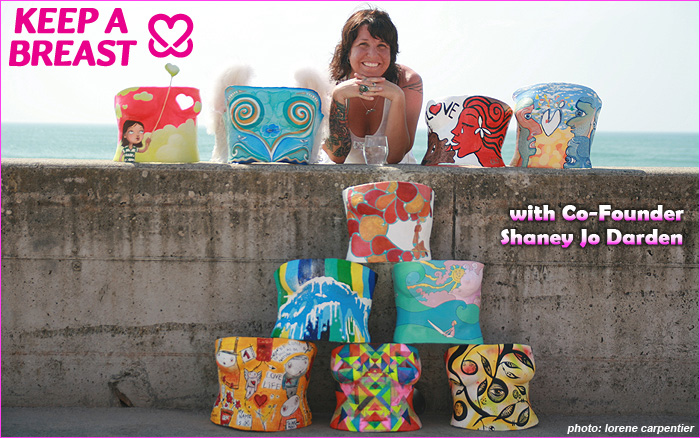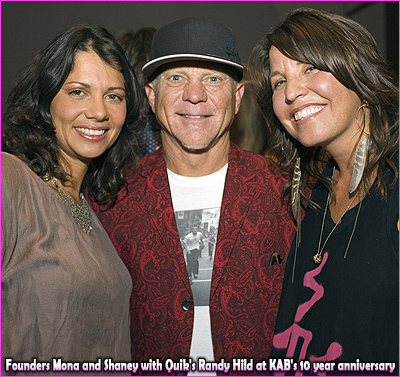 According to the CDC, breast cancer is the second most common form of cancer in women, aside from non-melanoma skin cancer. Furthermore, a 2006 study showed that of the 191,410 women in the United States who were diagnosed with breast cancer, 21.3 percent died. That's only a one in five survival rate. These statistics are and should be alarming; however, breast cancer can be treatable if diagnosed early.
Though there are a numerous foundations building awareness and raising money in efforts to eradicate breast cancer, there's one that hits home when it comes to fusing art, action sports and youth culture, the Keep A Breast Foundation (KAB). In 2000, Shaney Jo Darden and Mona Mukherjea-Gehrig founded KAB as a way to educate young people on how to identify specific threats and warning signs of breast cancer, which in turn can lead to early diagnoses and saved lives. Co-Founder Shaney Jo joins in to talk about KAB, breast cancer and prevention, some projects in the works, and how you can get involved. Take it away Shaney!
What or who inspired you and Mona Mukherjea-Gehrig to start the Keep A Breast Foundation?
At the time, Mona's mother was recently diagnosed with breast cancer, as well as a friend of ours, artist Margaret Killgallen. We were looking for something to do, to give back, and we couldn't find anything. I didn't want to eat yogurt and mail my pink lids in – pink ribbons were not my style – and walks just seemed boring.
I wanted to do something that really resonated with me and my peers. Myself and Mona were putting together big art and fashion events at the time called Modart, and we thought, "Why not an art show?" So we asked all of our artist friends if they wanted to paint on breast casts and the idea was born.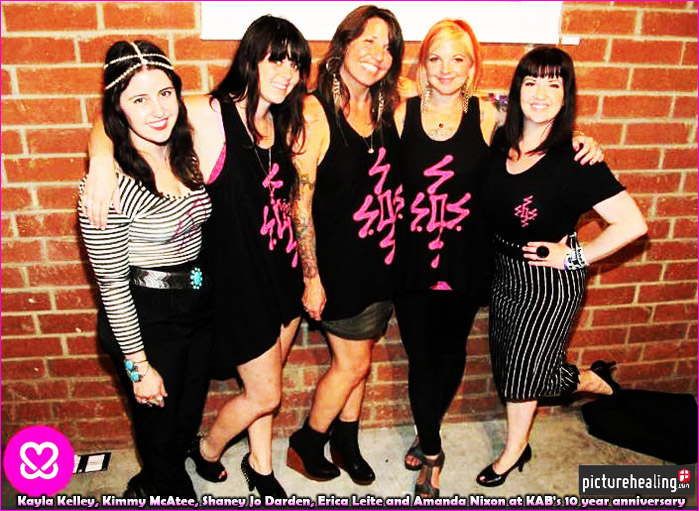 What is the ultimate purpose behind KAB?
The Keep A Breast Foundation was started in response to the growing need for breast cancer awareness programs to educate young people. When my friends were being diagnosed in there 20s, no one ever thought that could happen. It flipped a switch in my brain and I realized that it was my purpose to educate young people about breast cancer prevention.
I wanted to do something that spoke to young people. We use art and artistic expression to inform young people about methods of prevention, early detection, coping and support. Through these programs, Keep A Breast strives to eradicate breast cancer by inspiring young people to adopt lifestyle choices that have long-term health benefits.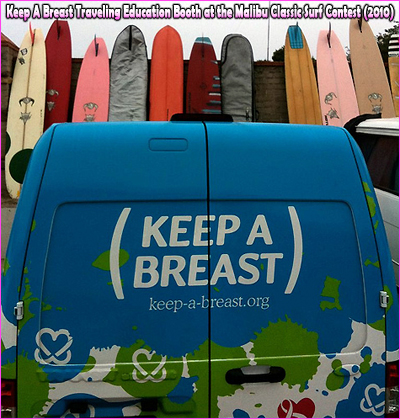 Why is breast cancer awareness so important?
The statistics supporting the need for breast cancer awareness among teens are alarming. Girls as young as 10 years old have been diagnosed and the numbers continue to grow. Although the incidence of breast cancer in young women is much lower than that of older women, breast cancer in young women is generally more aggressive, diagnosed at a later stage, and results in lower survival rates. In fact, breast cancer is the leading cause of cancer deaths in young women under the age of 40.
Despite these facts, many young people mistakenly believe that breast cancer is only a problem for women over 40 years old. As a result, diagnoses are delayed and young lives are cut short. Keep A Breast educates young people on how to identify specific threats and warning signs of breast cancer which will lead to early diagnoses and saved lives. In addition, Keep A Breast informs and educates young people about the dangers of toxic chemicals in our environment and food supply, and their link to breast cancer initiation.
What preventative actions can women take?
Check Your Self! Be aware of your body and any changes. Feel your breasts every day, really. Go Vegetarian. Stop Smoking. Exercise every day and break a sweat. Stop using products that contain toxic chemicals. Although you will never wake up in 20 years with cancer and say I bet I have this cancer because I used that one deodorant or lotion when I was a teenager, but constant exposure to carcinogens really increases the odds you'll be at such risk.
Furthermore, it's not just for girls anymore. Men get breast cancer too.
At what age should women start getting screened?
You should start getting clinical exams after your period.



What was the first gratifying moment that you realized you had made a difference?
The first thing that comes to mind wasn't actually the first time, but was recently at the Zumiez 100K this past January. I was on stage with the founders of every company in action sports, and the only girl! I thought those kids were probably thinking who is that girl up there with Jamie Thomas and Eric Koston. The mic got to me and I said, in my high pitched voice, "Hi, my name is Shaney Jo from the Keep A Breast Foundation," and 1,200 kids started screaming and went into a chant, "Boobies! Boobies! Boobies!" They did not stop! It was the first time I realized the power KAB had.
Thousands of people were there making such a huge difference. There were 1,200 kids completely engaged and passionate. So hopefully those 1,200 kids meet 1,200 more kids and talk about KAB. Whether it's at their school or local shops or stores, the more they talk and spread awareness, the better it is for all. I finally saw the big picture. It was heavy.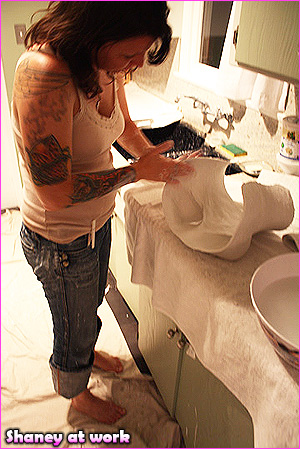 KAB is very much inspired by art. Why the direction?
I was raised in Southern California, growing up going to skate contests and loving all the art from that culture. When Mona and I started Modart we had access to the best artists in action sports and the street art community. The KAB campaigns use art and artistic expression to inform young people about methods of prevention, early detection, coping and support. These awareness campaigns harness the power of art to communicate complex feelings and thoughts about health, the female form and ultimately about breast cancer. I'm a collector and I buy art from my emotions and how a piece or art makes me feel. I don't know what else really touches you the way art can.
What companies have you worked for in the past?
Well let's start from the beginning. I've worked for Poot, Sophisto, Girly Things, Planet Earth, Rhythm Skateboards, Redsand, Modart, Tommy Hilfiger, DC Shoes, all the Sole Tech brands (including Etnies, éS, Altamont, Emerica), Toy Machine and Baker Skateboards. I've also done my stint at coffee shops including the Pannikin, in Del Mar, Calif. I also had my own clothing line, Lewsader, and art gallery space called Swiv Tackle Circus. I'm also the founder of Modart and Keep A Breast.
In what ways is KAB involved in the community?
In the action sports industry, we are constantly on the road at skate and surf contests, concerts and so on. We also do collaborations with brands to bring awareness to their "fans."
What are some milestones or accomplishments you're particularly proud of?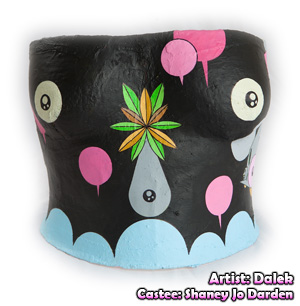 I've worked and ran Keep A Breast for 8 years for free. The day that we actually moved our office out of my bedroom and I was actually able to get a paycheck was awesome!
I'm super proud with our relationships with the Warped Tour. The outreach we do on the Vans Warped Tour is our largest and most important. Having kids come back years after you handed them lifesaving materials and hearing them say you saved their lives are the things that really keep you going!
What other charities have you worked with, and what grants has KAB awarded recently?
We have worked with Teens Turning Green, Environmental Working Group, Surfrider Foundation, Boarding for Breast Cancer, Young Survivor Coalition, and The Rell Sunn Educational fund. We are super excited to have just granted $100,000 dollars this past month to some amazing organizations and individuals dedicated to putting an end to breast cancer through positive impact.
Are there any events coming up we should be made aware of?
We just finished up October, Breast Cancer Awareness Month. The next big project is planning the spring global launch of our new campaign, The Keep A Breast Non Toxic Revolution (www.kabntr.org). We are working with Shepard Fairy and his design firm Studio No.1 on the look and feel for the campaign, so we are super excited.


How can people get involved?
Add us on Facebook. Become a member. Volunteer!
When KAB looks to hire more full-time staff, what positions are next to bat?
As KAB continues to grow, it's all about our outreach and programs. Currently, all the girls at KAB wear so many hats. As we continue to grow we will have the need for people who really know their program inside and out, while being able to maintain focus and a grassroots esthetic. We're always looking for interns and volunteers, so visit us at www.keep-a-breast.org!
---