Back to News
TV: Tony Hawk on "The Daily Habit "TONIGHT!
October 21, 2010
Skate Legend Tony Hawk on "The Daily Habit" Thursday, October 21, 2010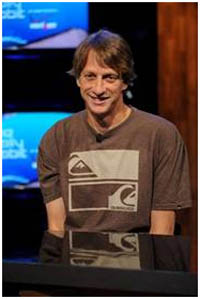 Airing Thursday, October 21 at 9:30 pm Eastern Time (6:30 pm Pacific Time) and telecast three additional times Tony Hawk, Actor Lance Krall, plus musical guest Andrew WK will appear on "The Daily Habit."
Sitting at the new Daily Habit panel is the Birdman himself, Tony Hawk. Joining Tony will be the star of "Free Radio," the hilarious actor Lance Krall, as well as our resident funnyman Chris Fairbanks. Tony and Lance share thoughts on Tony's video game controller actually getting skated, Filipino beauty pageants and more. With his new book out, "How Did I Get Here: The Ascent of an Unlikely CEO," Tony shares buried stories and business bits from his past. See who wins when Tony faces off for the Tony Hawk: SHRED video game challenge. Plus, a live performance on The Stride Sound Stage by the best partier there is, Andrew WK.
Tony Hawk's sponsors include: Quiksilver, Birdhouse, Hawk, and Theeve.
---