Back to News
TV: Stacy Peralta Announces Exciting New Skate Documentary
October 25, 2010

"Dogtown and Z-Boys" Director Stacy Peralta Announces Exciting New Skate Documentary on "The Daily Habit"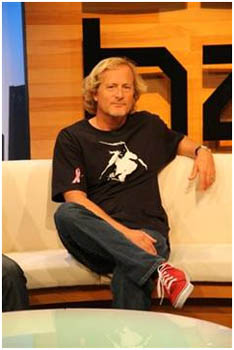 Airing Monday, October 25 at 9:30 pm Eastern Time (6:30 pm Pacific Time) and telecast several additional times "Dogtown and Z-Boys" Director/Writer Stacy Peralta will appear on "The Daily Habit."
In this exciting episode of The Daily Habit, veritable skate legend and the man behind "Dogtown and Z-Boys", Stacy Peralta, announces his new Bones Brigade documentary about the notorious video skate crew. Also, get ready for the best in stand-up on the TDH stage with comedians Blaine Capatch and Graham Elwood joining Chris Fairbanks. They tackle hot-button topics including the scandalous iPhone app, "Where the Ladies At", dating cougars and partying on the controversial alcohol/energy drink, Four Loko. Also, our hot new Music Correspondent Chelsay Klikunas introduces a rousing performance from current Billboard Top-Ten metal heads, All That Remains.
---