Back to News
SNOW: Snow Making Underway at Mountain High
November 9, 2010
Snow Making Underway at Mountain High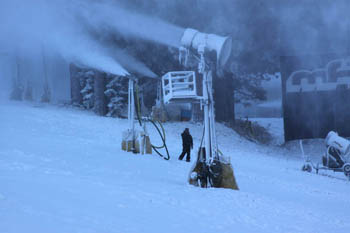 Snowmaking began yesterday evening at Mountain High and the Wrightwood resort has already laid down close to a foot of new snow at its West Resort. Over the next several days conditions look favorable for nighttime snowmaking and Mountain High will continue to make snow whenever possible. Thursday would be the earliest possible opening date however, if it doesn't take place by Friday, the resort will have to wait until next week when snowmaking conditions return.
Mountain High has invested more than $600,000 in its snowmaking system over the past two years and this season added five new guns, three fully automatic. Thanks to new technologies, Mountain High can now make more snow than ever, and the system has never been more environmentally friendly.
For guests looking to save money, Mountain High's adult, anytime season passes are still on sale for just $349. Regularly $599, these passes are good any day or night this season including holidays. But don't delay. There are only 1,235 passes left at this price and when they are gone, they are gone. For more information visit http://www.mthigh.com/rates/seasonpass.html
Mountain High has been the first resort to open in Southern California for the past 13 years and this winter should be no different. For the latest information on opening day, snow conditions and more, guests are advised to visit mthigh.com. For more information or to schedule and interview, please contact Kim Hermon, Marketing Manager, at (760) 316-7830 or [email protected]
Mountain High is Southern California's closest winter resort located just an hour and a half from Los Angeles and Orange County. The area consists of three separate mountains (Mountain High East, West, and North), and offers a wide variety of lifts and trails, two world-class terrain parks, an outstanding Winter Sports School, and the region's largest tubing area. Night skiing & snowboarding is available 7 day-s-week and snowmaking covers more than 80% of the slopes. Mountain High has been the first resort to open in Southern California for the past 13 years and traditionally operates from mid November to mid April. Get more at mthigh.com.

---