Back to News
TV: Vans Introduces Offthewall.tv
November 16, 2010
Vans Introduces Offthewall.tv Interactive Television Network
Virtual Video Platform Merges Best of TV and Web Functionality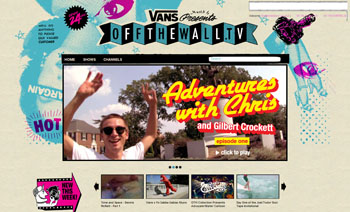 Vans today announces Offthewall.tv, an innovative digital on-line video network chronicling the many aspects of Vans' brand of youth culture through exclusive original content consisting of both stand-alone features and serial programming. Mirroring a traditional television network but operating exclusively on-line, Offthewall.tv will include original content developed weekly as well as video from Vans' vast archives in a platform that is easy to navigate, is searchable, easily shared and available worldwide. The heart of Offthewall.tv is an intuitive, proprietary player accessing hundreds of videos that allows viewers to subscribe for notification of new episodes of their favorite series, to search for videos by categories and search terms, share via Facebook and Twitter or embed links their own sites plus even edit certain videos to their own liking via a Mashable player. iPad compatibility will be available in coming weeks.
Offthewall.tv launches with four new series with more to come in the near future including:
Collaboratory
- A documentary style series focusing on the individuals and brands that collaborate with Vans' designers for special projects. The series kicks off with the story behind iconic American outdoor brand Filson and continues with current Vans Girls partner Erin Magee and her streetwear label, MadeMe.
Adventures with Chris
- The poet laureate gonzo journalist of skate, Chris Nieratko spends time with the Vans skate team and other skate luminaries to give us a peek at their not so normal lives.
Time and Space
- Series that documents the time that it takes an artist to put together an exhibition and the space in which they do it. Series launches with Brooklyn-based artist Dennis McNett.
Yo Gabba Gabba!
- Offthewall.tv launches with an exclusive series of five original shorts developed by the creators of Yo Gabba Gabba! drawing inspiration from the worlds of action sports and music as each Gabba Land character introduces their own recently released Vans shoe.
Coming Soon:
Get Down with Grosso
- Jeff Grosso shares wisdom that can only come with more than 20 years of ups and downs as a professional skateboarder.
In addition to the weekly series, board sports fans can turn to Offthewall.tv for skate, surf, snow, BMX, wakeboarding and motocross programs featuring action from Vans athletes as well as shows highlighting the best of top contests including the Vans Triple Crown of Surfing, the Vans Downtown Showdown and the Pro-tec Pool Party.
"Technology has now arrived at a place where we can create a platform that allows us to share all the rich stories that come with being at the epicenter of youth culture for the past 40-plus years," says Vans Vice President of Marketing Doug Palladini. "Offthewall.tv aggregates all the rich video content that we have produced and continue to create and places it squarely in the hands of viewers allowing them to watch what they want, when they want."
www.Offthewall.tv
is at available at your fingertips now.
---