Back to News
B$Z: Dave Carnie's Book
November 19, 2010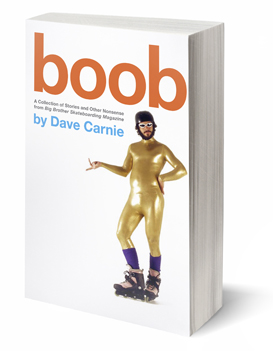 Dave Carnie's Book "boob" To Be Distriubted by Switchboard
You've got to read the quotes below.
Big Brother was the most infamous magazine in skateboard history and one of its loudest voices was Dave Carnie. Boob (published by KING PUBLISHING with support from VANS) is a collection of Dave Carnie's best work in his 14 years with Big Brother—a magazine that not only transformed skateboarding and brought us Jackass, but influenced everything in the publishing world from Vice to Martha Stewart's Living. Boob will go down in literary history as the greatest skateboard book, not about skateboarding, ever written.
In this massive 720 page tome you'll be treated to the entire catalog of Dave Carnie's most delightful stories about penis pumps, enemas, Depends Olympics, Bong Olympics, Slayer at Disneyland, the infamous Andy Roy interview, porn stars who shoot fire out of their butts, his amazing cat Gary, the Poocano, Aggressive Street Dancing, Aggressive Sheep Herding, and all kinds of other nonsense.
The book is also filled with exclusive, in depth interviews with people throughout the world of skateboarding such as Louie the Chimp (skateboarding monkey), Jarret Barry (professional homosexual skateboarder), Arlo Eisenberg (professional rollerblader), Larry Flynt (professional pornographer), and many more famous skateboard personalities. Be a part of skateboard history and order copies now.
Your toilet needs this book. Penis. Vagina.
"Dave tells it like it is, or however he sees it through his perverted prism. Never compromising, sometimes offensive, always funny."
—Tony Hawk
"On his best day Dave Carnie isn't too pleasant. He is often drunk, fairly abusive, and a goddamn awful fighter. He can write like a son of a bitch and is one too. I'm a big fan."
—Johnny Knoxville
"I met Carnie at Big Brother when the offices were at World in El Segundo and he was the biggest dick. It wasn't till four years later when he was drunk at Jeff's apartment that he was suddenly nice to me. I'm not sure how I won him over, but it took years of trying."
—Spike Jonze
"Idiots often flaunt their idiocy unintentionally, geniuses often flaunt their genius over-intentionally, but it is the truly gifted ones who can deliver their genius through idiocy."
—Mark Whitely, Slap Magazine
"Dave Carnie is one of the only people to succeed at writing about the act of skateboarding—or the act of not skateboarding. Carnie's prolific, often drug-fueled work for Big Brother was not only groundbreaking, but hilarious."
—Davoud Kermaninejad, Concussion Magazine
"When I think of Carnie, one word comes to mind: shitbag. Actually, that's two words, but it looks way better written as one."
—Jeff Tremaine

---