Back to News
B$Z: Spyder Pushes Retailer Driven Technology
November 22, 2010
Spyder Boosts B2B Platform Strength
For 30 years, Spyder has been renowned for integrating highly technical and fashionable ski gear. Spyder and the athletes that use the gear embody a true passion for performance and functionality. In conjunction with Seattle-based firm BKWLD, Spyder is now applying that same passion to push the limits of their B2B efforts.
Named Elastic and branded SPYN by the team at Spyder, this merchandising and ordering platform is designed to simplify and enhance the sales rep/retailer relationship, while offering an opportunity for the Spyder brand to build a differentiating brand presence within the B2B realm. Ultimately, this platform allows Spyder and their retailers a more efficient and environmentally responsible way to place and manage orders, digitally merchandise product groups and color stories, and run detailed reports, all while creating time efficiencies and maximizing sales.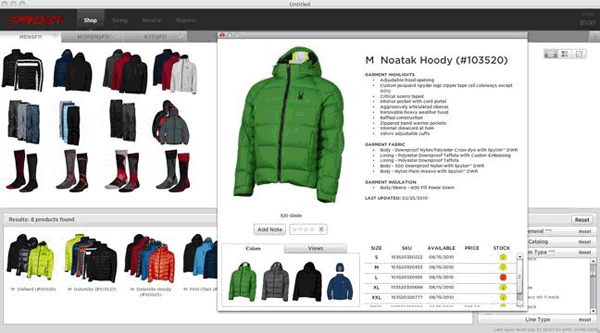 Retailers can peruse SPYN at anytime and anywhere they have access to their computer. Spyder recently challenged BKWLD to develop the technology for online use and for the ubiquitous iPads. Among numerous capabilities, the platform operates offline and online, and is optimized for Windows, Mac, and mobile devices. Spyder is the first and only brand using the iPad capacity.
"It has been a thrill for us to work with such a progressive brand," stated Josh Reddin, vice president of BKWLD/Elastic. "It is our mission to work with a handful of category leaders that allow us to provide them the most complete and brand defining tool on the market."
Spyder is equally as enthusiastic to launch an innovative new resource to its retailers. "By working together, Spyder and BKWLD have created the most compelling B2B tool on the market," said Kevin Smith, CIO of Spyder.
About BKWLD
BKWLD is a Seattle and Sacramento, CA-based full service interactive agency that enjoys strategically attacking new projects and assisting in developing brand awareness and relevance within industry specific categories. Unlike other interactive agencies, they pride themselves on creating interactive media that can be altered and updated by the client themselves. For more information on BKWLD, please visit www.bkwld.com.

---