Back to News
B$Z: DeLorean and Nike 6.0 Collaborate on Back to the Future Shoe
November 25, 2010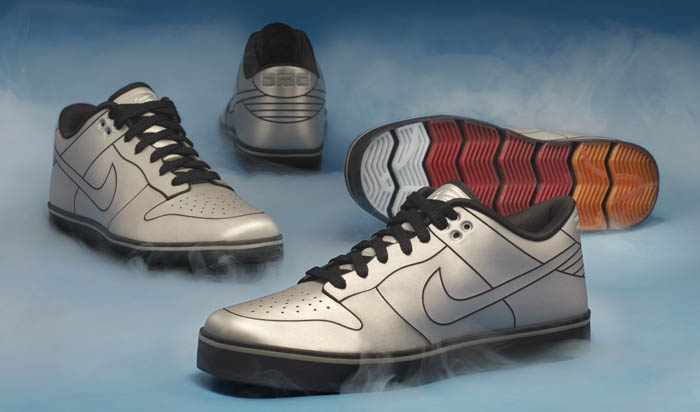 DeLorean and Nike 6.0 Collaborate on Back to the Future Shoe
-Iconic 80's Car Partners with Nike, MATTEL, the Hundreds, Among Others-
The collaboration shoes will go in to retail stores that currently carry Nike 6.0 and P.O.P. to support the collaboration could include refurbished DeLoreans. If the kids of today do not take to it, there are still plenty of Back to the Future and Marty McFly flans kicking to buy up the limited edition collaboration.
DeLorean Motor Company (DMC) recently announced more licensing partnerships, which now include Nike, Mattel, Sun Star, Gateway Global, Microsoft and Now &Zen apparel to produce an exclusive array of toys, t-shirts and footwear employing the DeLorean trademark.
"We are excited to come into agreements that allow all parties to enter valuable new marketplaces highlighting the pop icon status of DeLorean," stated Stephen Wynn, CEO of DeLorean Motor Company. "The breadth and depth of each partnership demonstrates how relevant DeLorean is with consumers. In addition, there is great potential within each partnership; we have winning combinations on all fronts."
In accordance to the terms of the agreements, DeLorean will collaborate with each licensee to design, market and sell all DeLorean partnered products, including the release of the special edition DeLorean Nike Dunk.
Since its debut in 1981 DeLorean has earned its place in pop-culture iconography. The sport cars' easily recognizable gull-wing doors, stainless steel body, and rear mounted engine has appeared in movies, video games, and television shows, though may be best known for its role as the unlikely time machine featured in the Back to the Future trilogy.
Today, DeLorean remains well favored in the minds of many young consumers.
According to the Opinion Research Corporation Caravan poll of 1,000 men aged 18 years or older, 93 percent of respondents remember DeLorean from when they were younger and 87 percent agree the car was ahead of its time.
ABOUT DELOREAN MOTOR COMPANY
The DeLorean Motor Company (DMC), based in Humble, TX, acquired the original company's name in 1994 and now owns the largest remaining original parts stock from the factory, US stock and original suppliers. DMC manufactures, services, appraises, restores and sells DMC-12 automobiles, parts, accessories and merchandise to customers around the world. DMC custom-manufactures cars to order, featuring parts or designs from the original DeLorean automobile, with modern engine and suspension technology.
Please visit www.delorean.com or contact [email protected] with any questions.

---