Back to News
SNOW: Mountain High Celebrates Record Thanksgiving Week
November 29, 2010

Mountain High Celebrates Record Thanksgiving Week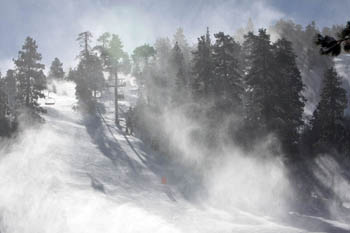 More than 25,000 guests visited Mountain High from November 22nd to the 28th making it the best Thanksgiving week in the resort's history. As of Monday, November 29th, the Southern California area will have surpassed last year's attendance in 14 fewer days. The North Pole Tubing Park also opened this weekend making it its earliest opening ever.
Says Karl Kapuscinski, President and CEO, "We're off to a great start this season. The conditions have been incredible and, thanks to improvements in our snowmaking system, we're now able to open more trails faster than ever before."
Mountain High opened this season on November 11th, the first resort to open in Southern California for the 14th straight year. Non-stop snowmaking set the tone for the first weekend and the resort soon went from three trails to ten offering terrain for all levels of skiers and snowboarders. Several days of warm weather slowed operations but a small storm and aggressive snowmaking just prior to Thanksgiving allowed the area to open the majority of its West Resort and accommodate the huge influx of holiday attendees. Just like tickets, season passes have been selling quickly and the resort will sell out of its discounted $349 Anytime Pass on December 1st, 23 days sooner than last year.
Says Karl, "This early-season has been one of our best ever. People seem to spending again and the weather has been perfect for snowmaking. We look forward to it being a great year."

Mountain High now has eight lifts in operation accessing terrain for all levels and abilities. More than 45 terrain park features are on the hill and the conditions rival those of mid-winter with plenty of squeaky, packed powder. Night skiing is now available Fridays and Saturdays and will go to full time on December 10th. Snowmaking has begun at the East Resort (its earliest ever) and Mountain High hopes to have it open top-to-bottom by December 11th.
---