Back to News
B$Z: L*Space Guides Customers Using Front Window by Clarinova
December 2, 2010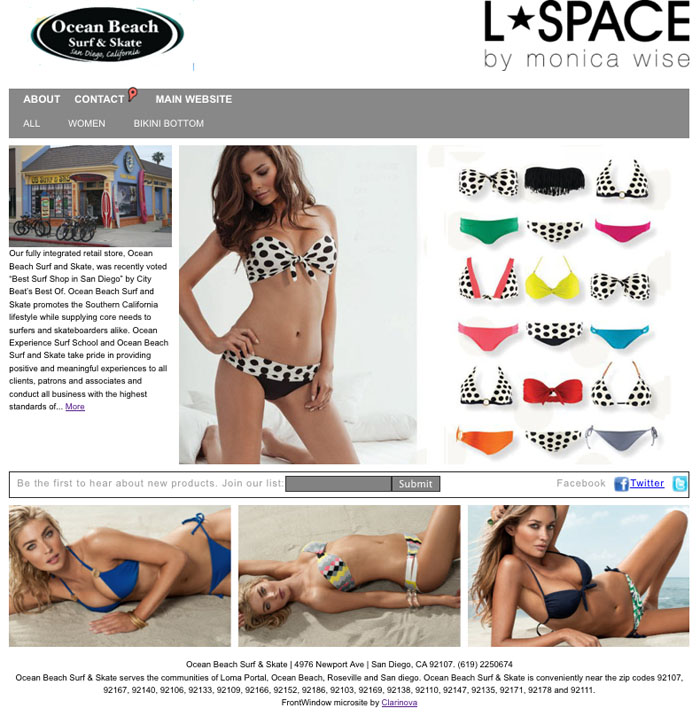 B$Z: L*Space Guides Customers Using Front Window by Clarinova
In our internet-driven world, most brands still rely heavily on a thriving business at brickand-mortar retailers. Sometimes nothing can compare to the experience of seeing a product, feeling the fabric and getting to experience the quality and fit. This is especially true for a company like L*Space, a fashionable women's swimwear designer based in Orange County, CA.
"A woman's shopping style varies when it comes to online or in-store preference, so it is our job as a brand to accommodate both," says Debby Martin, National Sales Manager for L*Space. "Although we have a strong customer base with our online e-tailers, many of our customers prefer that tangible experience, thus relying heavily on our swimwear boutiques and specialty surf stores to provide that personable service," continues Martin. "Even with the ease of the internet, I believe this customer will remain loyal to shopping in our retail stores, and we would like to be the ones to guide them there!"
Keeping these small and medium-sized swimwear retailers busy is crucial to the success of L*Space. The
company has found a new way to support its retailers by implementing technology that will drive foot traffic to stores that carry their brand. L*Space will use Front Window software from Clarinova to improve local web searches for its swimwear. Front Window technology will ensure that individual retailers are easily found and that their current inventory is available online.
Front Window software builds search engine optimized websites that are specially designed to improve local search results. These websites—which are built for the brand's retailers—feature the latest product images and promotions for the brand along with the retail store's information.
"Front Window is going to guide consumers to local retailers when they search for L*Space swimwear online," explains Scott Yankton, President and COO of the start-up Clarinova Inc. "These customers are online doing searches for this brand, but they really want to purchase offline in retail stores." Yankton says that data shows over 90% of retail transactions still take place in brick-and-mortar stores and that most U.S. consumers are using search engines to research products and to find out where to buy locally. "To be competitive, businesses have to connect with consumers while they are online doing local searches," says Yankton.
As part of its co-marketing support, Clarinova will promote all of the L*Space websites through local business directories, social media, email marketing, search engines and blogs to ensure that they are highly visible.
"We are excited to collaborate with our retailers and with Clarinova," says L*Space's Martin. "We realize we need to make local search marketing a priority for our business, and we have a partner who will get us there."
Encinitas-based Clarinova is a collaborative web marketing company that works with manufacturers and their retailers to create a powerful online presence. Clarinova's core technology—Front Window software— bridges the gap between creating a brand and making certain it is well-represented on retail websites and across the internet. The Front Window technology facilitates local search by guiding customers to retail stores. It also redistributes social media and other content, and allows retailers to easily maintain accurate inventory online.

---