Back to News
B$Z: Spyder Names Rep of The Year and rewards him handsomely
December 7, 2010
Spyder Names Daniel Clayton Inc Rep of the Year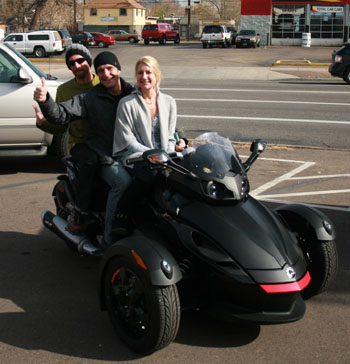 Work hard, play hard. The old adage couldn't be more fitting for Daniel Clayton Inc, the rep group named Rep of the Year by Spyder Active Sports after a stellar season of servicing existing retail customers, developing grass roots marketing initiatives, stoking out consumers and setting up new accounts. The iconic brand rewarded Danny Clayton, the managing rep, with a three-wheeled Can-Am Spyder Roadster decked out in matte black paint, red highlights and custom Spyder logos.
Clayton's team has been representing Spyder for just one year. "We wanted to dig in and reinvigorate Spyder in New England," Danny said. "We focused on getting retailers and consumers excited about the brand. We also set-up several concept shops and opened an industry-leading Spyder store at Killington Resort. The buzz and growth around the Spyder brand has been unreal."
The Rep of the Year is awarded annually to the individual or group who excels at customer service, brand promotion, direct consumer interaction, increases in sales per store, and increased store presence.
Clayton, his wing man and brother Steve and the rest of his sales crew represent Spyder in the highly competitive New England territory, supporting retailers and ski resorts across Maine, New Hampshire, Vermont, Massachusetts, Rhode Island and Connecticut.
---