BACK TO NEWS
EDU: Academy Snowboards' Announces 2010 Scholarship Winner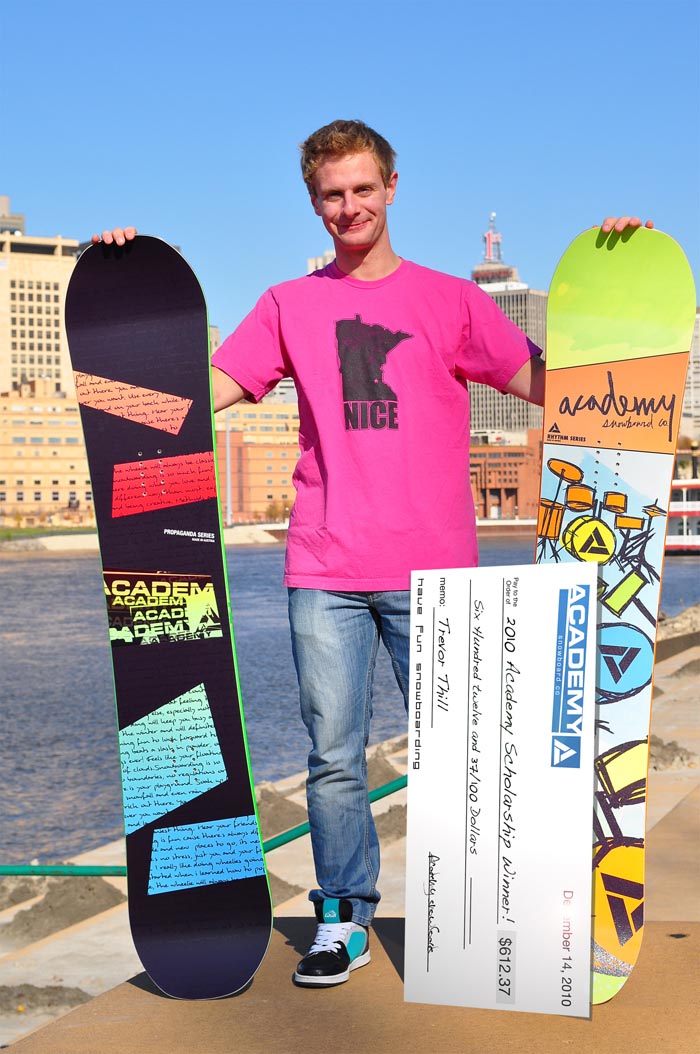 Academy Snowboards' Announces 2010 Scholarship Winner
Academy Snowboards is giving out more cash to kids which will help keep their shred dream alive while staying in school. Trevor Thill, hailing from Minnesota, is this year's Foundation Scholarship winner.
He has proven his dedication to snowboarding by instructing at Trollhaugen Resort, working at Summit Boardshop, and getting as many days on the hill as his college schedule will allow.
Trevor is currently attending Century Community College and will be transferring to St. Cloud State University next year to major in international business and finance.
Trevor picked up the scholarship application through The-House Boardshop in St. Paul, had fun filming his shots for the required videos, and submitted the criteria. He is now stoked to have two Academy snowboards, a $612 check ($500 plus 1% of that region's sale) to use for tuition, and a free session to High Cascade Snowboard Camp.
For information on Academy Snowboards 2011 Foundation Scholarship check our websitewww.academysnowboards.com. Scholarship applications are only available at Authorized Academy Snowboard Dealers. The deadline for submission is March 25th, 2011.

---