Back to News
118 Boardshop
January 1, 2011
118 Boardshop
Time-limited super sale websites are a big trend right now on the World Wide Web. New sites regularly pop up for everything from mainstream fashion to pet products, to action sports. 118 Boardshop (http://www.118boardshop.com), originally a traditional brick n' mortar retailer, recently set up shop and is carving out a cyber-niche with the goal of emulating its original vibe and service.
118 Boardshop was the retail springboard for iconic brands DVS Shoe Company, and later Matix Clothing and Lakai Footwear. The shop, originally owned by founders of these companies, was sold to a group of dedicated employees who grew the retail operation to include the original store and later 118 Hollywood located right in the epicenter of tinsel town. After a hiatus of operations, 118 Boardshop is back but in a new form as an online discount e-tailer. Partners Teddy Monney and Casey Lamm provide insight to reentering retail in this new form.
118 Boardshop was recently re-launched as an online discount retailer. What are the basics of how this business model works?
118 is a members-only online shopping experience offering limited time branded sales events. These timed events usually run anywhere from 48 hours to 2 weeks and include apparel, hard-goods, and accessories from the best brands in Skate, Surf, Snow, and Motocross. We have teamed up with many of the top name brands to host these short term, timed sales in order to help them move excess inventory. When a brand decides to work with 118 we create an individual sales event for them using their own branding and assets so it's like their own little closeout sale. Upon launch of each new sales event, Email notifications are sent to each member showcasing that brand and their products, but members must act quickly as many items are limited in quantity and sell out fast. All products are offered to members at prices of up to 70% off normal retail and the best part is that membership is free for everyone. Once the sale event has ended 118 places an order with the manufacturer and typically receives the products and has them shipped out to our members within 2-14 business days. We know this seems long to some members but trust us, the great deals are worth the wait. We also have some products in stock and available for same day shipping for those members that just can't wait. Check out each individual sale for shipping availability.
Basically, to sum it up, we are offering Real Brands to Real People at Real Deals and we've partnered up with many of the best core brands to offer our members the best deals possible!!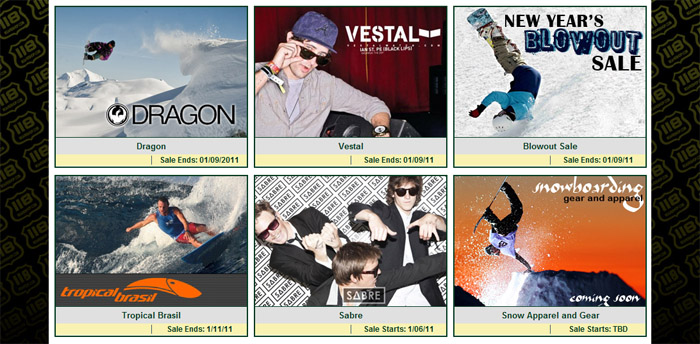 Why come back in to the retail market in this form?
Let's face it, the internet is taking over our lives and changing the retail landscape for good. Plus, who really wants to sit on Hollywood Blvd. and talk to every smelly foreign dude who walks by like we used to when we had the physical retail store. We would much rather sell product while sitting in the comfort of our homes and offices. 118 is lucky to have found a way of hooking up our customer even more than we have in the past by offering better deals than we ever could before. 118 can now reach the masses and our members don't even have to leave the comfort of their own homes.
Is your new retail customer the same or different from your old brick n' mortar customers?
We believe that many of our customers (we actually like to refer to them as members) are the same as in the past but in addition we're now able to capture a much larger audience with the power of the internet. We're still dealing with the same core bands we always have and are staying true to our original vibe! We just want to offer great product to our members who continue to enjoy the same things we do….that is, skating, surfing, snowboarding & motoing...basically just having fun!!
In this online space, are there benefits in having a traditional retail background?
In the online world, there is no real face behind the name in a sense. No one really knows who is behind the curtain. This is one thing 118 is trying to avoid and will try to stand out from the competition by hosting live events, fashion shows, contests and parties like we always have. That's what put us on the map before and we feel will continue to keep us in the industry spotlight. Having a traditional retail background we understand the importance of people knowing who we are and knowing what we do, it gives the store legitimacy. 118 hopes to continue to actually have a vibe, not just a customer service email address and phone number. In addition to these events we're going to be launching our blog soon and will also be giving a portion of our sales back to various charities.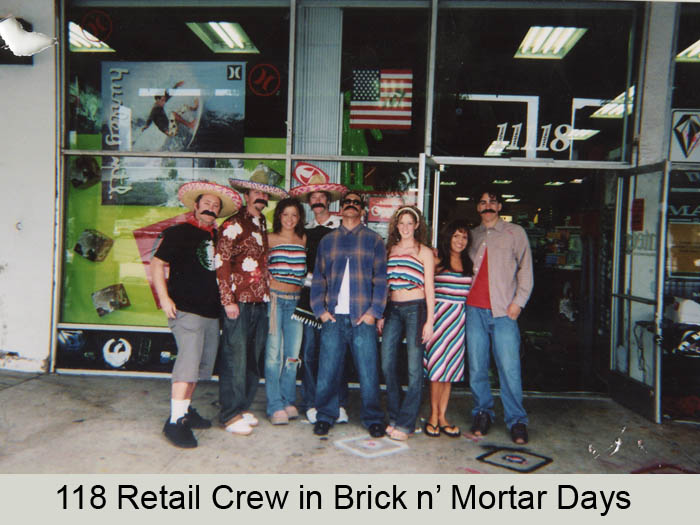 Is business progressing as forecasted / expected?
Everything we are recreating is a challenge and there is really no easy part of it. We have been fortunate enough to team up with a great web programming company, Auspient, and have the support of most of the brands we've worked with in the past. This definitely makes things run much smoother but it is still a never ending challenge. The functionality of the site is getting better each day and because of that 118's membership continues to grow. We are working on various interactive facets on the site to further interact with our consumers. With solid brands emerging weekly we have been able to sustain constant growth and expect to keep seeing this going into the New Year and well beyond!
To date, what is the most significant challenge the business has faced?
Where to start? Everything is a challenge, especially when roaming into a whole new world. Going from brick and mortar and dealing with landlords, leases and build outs, to online, dealing with programming, web designers, domain names, and sharks!
I think the most obvious challenge with this online model is growing our memberships. Trying to re-ignite the flame between our once loyal 118 followers and trying to start and build what will become the new 118 community is a difficult task. There are so many outlets in which to try and find these potential members, but that is where it gets difficult. We can go out there and advertise with various different companies, but finding the right team to play with has been very tricky.
What is the most significant success to date?
We think the most significant success to date is the continued loyalty and support of some of our past vendors. The brands that we have worked with in the past really want to see us succeed and therefore have been eager to help us out by offering us assets and merchandise at amazing prices. We really want to thank all of the brands for giving us the opportunity to work with them again!!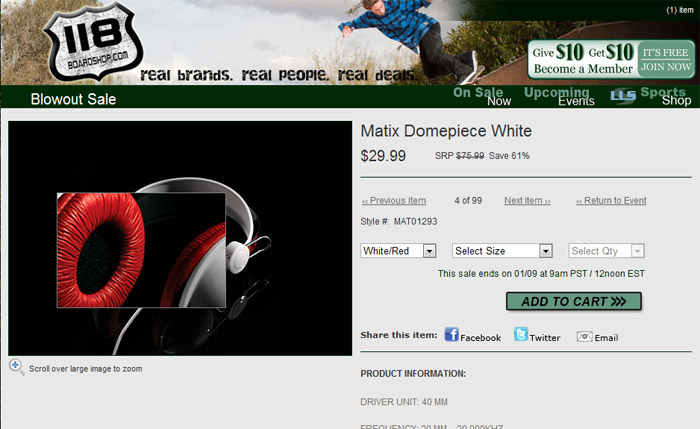 Is it a challenge to add new manufacturers / brands to your offering?
t's not really a challenge to add new brands as there are a ton out there and luckily we have relationships with many of them. The challenge is more about getting the right product for the right price and getting the manufacturers to hold the product while we run the timed events! This is a fairly new business model for our industry and some of the brands are reluctant to "Hold" the goods for us. Luckily however, like we said, there are a ton of brands out there and the guys we have had long time relationships with have given us a chance and we think it's working out well.

Seshday.com, TheClymb.com, and BackCountry.com's Whisky Militia / Department of Goods are a few direct competitors. Is there room for everyone? How do you differentiate?
We believe that with how large online business has become there's definitely room for everyone. The key is to finding that niche market that will support your company and to create an online experience that is completely different than other sites. That is exactly what we are trying to do. By interacting more with the public, ie. Fashion shows, Parties, Contests, etc. we feel we can create our own vibe for our customers to enjoy!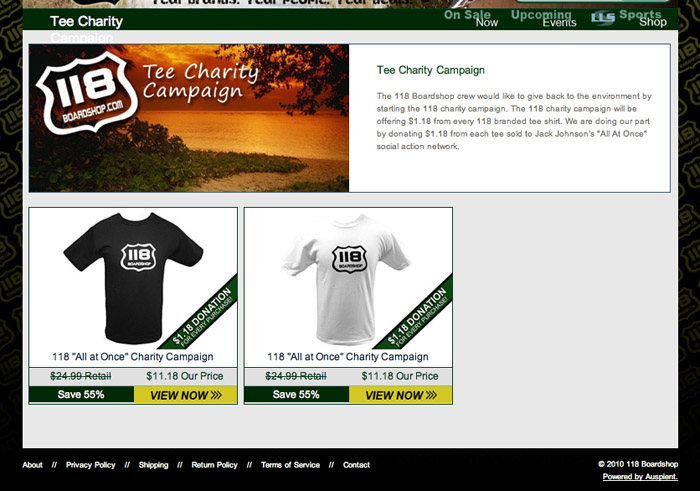 Do you think this business model jeopardizes manufacturers and retailers ability to sell product at full MSRP?
No, definitely not, that's not what we're about. With our business model we are simply helping vendors move excess inventory in a more core environment which just happens to be online. The best part about it is that our sales events are only visible to members so if someone is looking for a deal on a certain item and they search for it on the internet it won't come up on our site which protects the other retailers if they happen to be selling the same item at full MSRP. In addition to that our sales events are timed and the brands can control how long the sale actually runs prior to the launch of the particular sales event. We feel that brands selling off price product to large closeout chain stores like Ross, TJ Maxx, Marshalls etc is damaging the full MSRP market much more. This has been a continuing battle with brands and their retailers for several years now. Many of the larger brands have no option but to move their excess product to these venues while stirring up emotions from their core vendors but it's a necessary evil as we all know vendors need to move excess inventory somewhere.
The road ahead most likely has many challenges. What are the keys to succeeding?
Basically we are sticking to grassroots marketing, word of mouth, and viral marketing along with offering current members store credit each time the refer a friend and that friend makes a purchase. We are stoked to be working with many of the brands we did in the past and are looking forward to working with new brands too. We hope to make all these relationships work out again, benefiting both sides. We love offering insane deals on killer product to our members, while stoking out our vendors by getting rid of their excess inventory. We can't forget the vibe we've created in the past and we must have a voice and a presence behind all of our emails and email blasts. If we stay involved and keep the consumer involved we will succeed. We want to hear from our members, we want to see our members, and give our members what they want. Spread the word. Hook a homie up and tell them about our amazing deals and get yourself some 118 cash while you're at it.
How can companies and people get involved?
We would love to get involved with more brands and it's very easy to do!! Just shoot either Casey or Teddy an email and we can go from [email protected] or [email protected]
We would be hyped to work with you!!!

---