BACK TO NEWS
EVENT: Project Reclaim Winners Announced
EVENT: Project Reclaim Winners Announced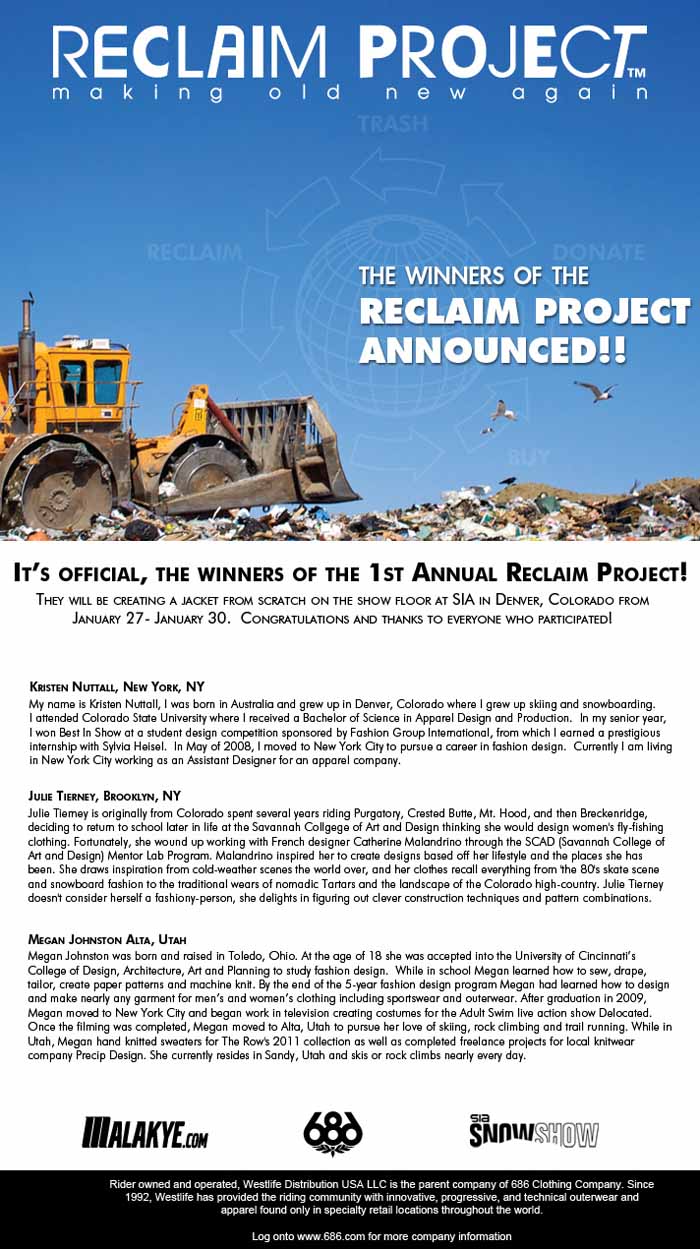 Kristen Nuttall, New York, NY
My name is Kristen Nuttall, I was born in Australia and grew up in Denver, Colorado where I grew up skiing and snowboarding. I attended Colorado State University where I received a Bachelor of Science in Apparel Design and Production. In my senior year, I won Best In Show at a student design competition sponsored by Fashion Group International, from which I earned a prestigious internship with Sylvia Heisel. In May of 2008, I moved to New York City to pursue a career in fashion design. Currently I am living in New York City working as an Assistant Designer for an apparel company.
Julie Tierney, Brooklyn, NY
Julie Tierney is originally from Colorado spent several years riding Purgatory, Crested Butte, Mt. Hood, and then Breckenridge, deciding to return to school later in life at the Savannah Collgege of Art and Design thinking she would design women's fly-fishing clothing. Fortunately, she wound up working with French designer Catherine Malandrino through the SCAD (Savannah College of Art and Design) Mentor Lab Program. Malandrino inspired her to create designs based off her lifestyle and the places she has been. She draws inspiration from cold-weather scenes the world over, and her clothes recall everything from 'the 80's skate scene and snowboard fashion to the traditional wears of nomadic Tartars and the landscape of the Colorado high-country. Julie Tierney doesn't consider herself a fashiony-person, she delights in figuring out clever construction techniques and pattern combinations.
Megan Johnston Alta, Utah
Megan Johnston was born and raised in Toledo, Ohio. At the age of 18 she was accepted into the University of Cincinnati's College of Design, Architecture, Art and Planning to study fashion design. While in school Megan learned how to sew, drape, tailor, create paper patterns and machine knit. By the end of the 5-year fashion design program Megan had learned how to design and make nearly any garment for men's and women's clothing including sportswear and outerwear. After graduation in 2009, Megan moved to New York City and began work in television creating costumes for the Adult Swim live action show Delocated. Once the filming was completed, Megan moved to Alta, Utah to pursue her love of skiing, rock climbing and trail running. While in Utah, Megan hand knitted sweaters for The Row's 2011 collection as well as completed freelance projects for local knitwear company Precip Design. She currently resides in Sandy, Utah and skis or rock climbs nearly every day.
---