Back to News
B$Z: IPATH Pushes Forward With New Owners, New President And A New Zip Code
January 24, 2011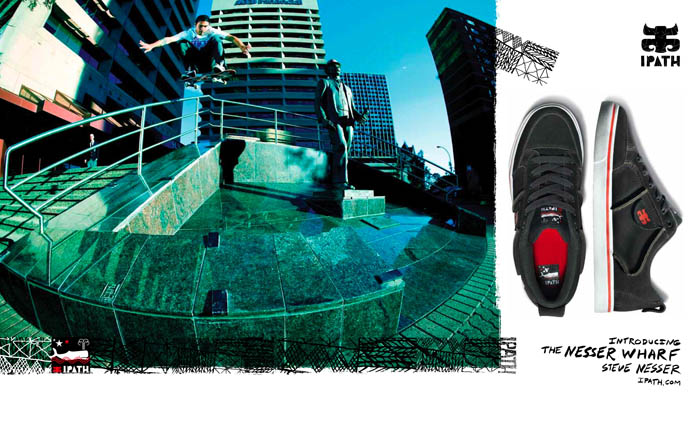 IPATH Pushes Forward With New Owners, New President And A New Zip Code
KLONELAB, the Boston area branding and licensing house that recently purchased the iconic skate brand IPATH, will be relocating the IPATH headquarters to Encinitas, CA. Making the trip will be current IPATH management team members Travis Matsdorf, Craig Metzger, Brendan Rynne, Gustavo Pierry and skate team manager, Ohio Dave Smith. Joining the team will be IPATH's newly appointed president, Nate Smith, a former Patagonia executive and Southern California native.
"Adding a leader like Nate to an already talented IPATH team is a huge land for the future growth of the brand. From a domestic and international perspective, Nate's experience with Patagonia will help us drive the business through specialty accounts and global partners," commented Tom McGee, CEO of KLONELAB.
Steve Nesser, who joined the IPATH skate team early in 2010, had this to say about the brand's new owners, "I met a few of the Klone guys at the Agenda show and I'm hyped about the way things are looking. They're good at what they do and seem down to learn what's unique about this industry and IPATH's part in it. I think they're really going to help IPATH get to the next level."
With impressive growth in 2010, in part due to the addition of new models and better constructions, IPATH has been on its biggest upswing in recent memory. Continued McGee, "The purchase of the IPATH brand from Timberland was a no brainer for us. They had exceptional growth last year in a down market, a great core management team in California and iconic silhouettes and team riders that give us the authenticity and foundation needed to continue to grow the brand."
Added Smith on the decision to move the company south, "We're moving IPATH out of Torrance to a spot where the crew can be more creative and the team guys will actually want to come hang when they're in town. San Diego's roots in skateboarding are deep and we look forward to being an active player in the community and becoming a part of that rich heritage."
Watch for more news on IPATH's continued push forward to come soon.
---