BACK TO NEWS
EMP: Burton Hires its First SVP of International Business
Burton Hires its First SVP of International Business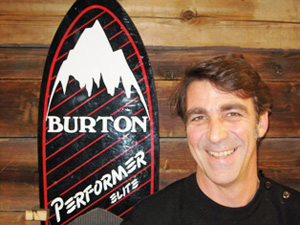 Burton Snowboards is pleased to announce that it has chosen Philippe Gouzes as the company's first SVP of International Business. Philippe has held a leadership role in Burton's European Sales Department in Innsbruck, Austria since 2002. As the SVP of International Business, Philippe will now report directly to Donna Carpenter, the Co-Owner of Burton Snowboards.
"I couldn't be happier to have Philippe take on this new role for us," said Donna. "For the past six months, I've been re-immersing myself in the daily workings of our international business. During this time, Philippe's knowledge, experience and instincts have really stood out. When we decided to create this new role, Philippe's excellent performance leading Burton's European Sales made him an obvious choice. Having been mentored by Hermann Kapferer, Burton's European leader since 1986, Philippe has been instrumental in growing our European business and has developed into a leader himself. I very much look forward to working closely with him to continue to grow our global business."
Currently based in the company's Innsbruck, Austria office, Philippe joined Burton back in 2002 as the European Sales Director. He then stepped up to a senior leadership role in 2006 as the VP of Burton Sales in Europe where he oversaw sales for all Burton brands, including Burton, RED, anon, Gravis, Analog and The Program. In 2008, Philippe took on another challenge for the company by leading the efforts to launch Channel Islands operations in Europe. In 2009, Philippe was in charge of relocating Gravis and Analog's European headquarters from the Innsbruck office to a new location in southwest France. Despite the challenging global economy during the past several years, Philippe continued to deliver impressive sales results for Burton in Europe.
In his new role as the SVP of International Business, Philippe will provide executive leadership for sales, marketing and product development for all brands in Burton's international offices. A lifelong snowboarder and surfer, Philippe has worked in the snow industry in Europe for over 16 years and is now ready to take on the new challenge of leading Burton's global business.
"I'm really stoked about this new role in the company," said Philippe. "It's been a lot of fun developing and consolidating the Burton brands in Europe for the past few years. Now I'm thrilled to work on a global level with our incredibly dedicated crew and management team to lead the expansion of such strong brands."
Burton Snowboards Founder and CEO Jake Burton added, "Philippe knows his shit and he's not afraid to roll up his sleeves. He's the one for this job."
---