BACK TO NEWS
EVENT: One Tribe, One Country, One Company with One Goal – Creating a Rainforest

Join Etnies in Creating a Costa Rican Rainforest
One Tribe, One Country, One Company with One Goal – Creating a Rainforest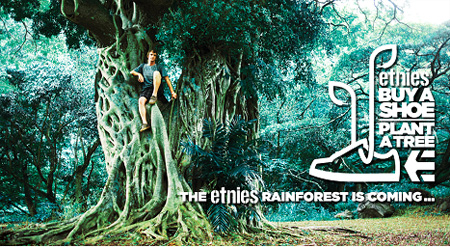 One may seem like a small lonely number, but when one brand (etnies), teams up with one tribe (the Maleku), and one foundation (La Reserva) in Costa Rica, a country committed to sustainability, the results can be incredible! To celebrate etnies' 25 year anniversary, etnies owner and CEO, Pierre-Andre Senizergues has decided to look toward the future and what the NEXT 25 holds! There's no better way to celebrate the future than by planting a rainforest in Costa Rica through etnies' new Buy a Shoe, Plant a Tree project. For every pair of Jameson 2 Eco shoes sold, etnies will plant one tree in what will become the new rainforest.

Check out this video and web feature to learn more about the etnies Buy a Shoe, Plant a Tree project: http://etnies.com/blog/2011/2/14/the-etnies-rainforest-is-coming/.
etnies is on track to plant at least 35,000 trees on the Maleku reserve in northern Costa Rica this year. The Maleku are an indigenous tribe with a way of life that revolves around the forest, and they are rightfully known as the guardians of the forest. For more than 150 years, the Maleku have had to fight for their trees that were depleted due to cattle farming and a horrible rubber-tree war, which led to a massacre, and nearly wiped out their tribe. The United Nations has sanctioned their land as a biological corridor to be restored and the international organization has officially marked 2011 as the "Year of the Forest" globally. The Maleku just need help obtaining the trees to reach their goal of reforesting the lands they live off of.
That's where your help comes in – anyone who buys a pair of etnies Jameson 2 Eco shoes will help reforest Costa Rica one tree at a time. Together with La Reserva Forest Foundation and etnies' "Buy a Shoe, Plant a Tree" program, the Maleku are helping to replenish the reserve with the trees that once maintained this community. La Reserva Forest Foundation is a non-profit organization dedicated to the recovery and preservation of indigenous tropical rainforests in Costa Rica.
This will also help Costa Rica in reaching its goal of becoming the first carbon neutral country by 2021, a pledge paralleled by Pierre-Andre Senizergues who set the goal several years ago for etnies to be carbon neutral by 2020.

This pledge of carbon neutrality and the country's natural habitat made Costa Rica an ideal partner for the etnies project to plant a rainforest and the etnies' Jameson 2 Eco the ideal shoe to get the community involved in reforestation. Bike tires and used rubber gloves are recycled to create the Jameson 2 Eco shoe's outsole and plastic bottles are used in the making of their PET shoe laces.
Rainforests help curb global climate change by providing more than a quarter of the oxygen to the world, and are home to thousands of species of animals. By planting at least 35,000 trees in the etnies Rainforest, approximately 6,930 tons of CO2 will be absorbed from the Earth's atmosphere throughout the trees' lifetime. This represents 465,051,360 etnies shoe boxes worth of CO2, placed end-to-end and wrapped around the Earth more than three-and–a-half times.
Click here for additional info, video and images on the etnies Buy a Shoe, Plant a Tree project.
---