BACK TO NEWS
EVENT: First Annual Reclaim Project at SIA Turns Heads
First Annual Reclaim Project at SIA Turns Heads
The first annual Reclaim Project at SIA turns heads. Front and center in the show lobby, the stage was set with an area built of reclaimed wood pallets that came together to create three design stations and an area for heaps of scrap fabric for designers to use in putting together their creations.
RECLAIM Project provided a 72-hour on-site design challenge for three new designers to create something new out of something old. The contestants were asked to produce an original garment created from "Reclaimed" left-over materials and trims.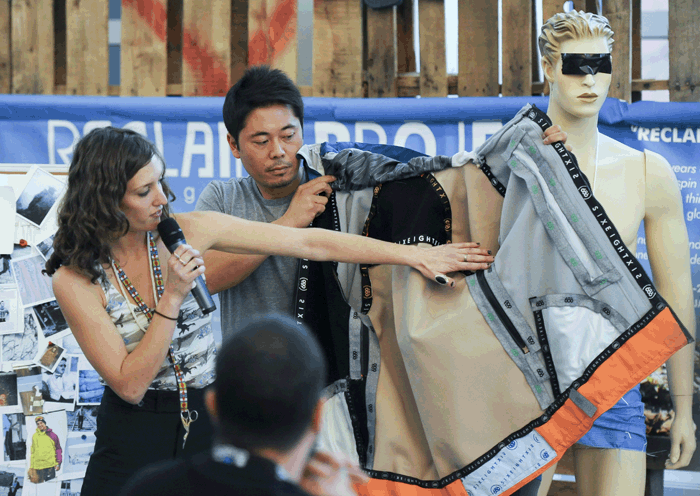 Megan Johnston of Alta, Utah (pictured above with her winning design) was named the winning designer for the RECLAIM Project. Many more photos of the event are found in slideshow below.
"It was a wonderful experience -- we all learned from each other, giving one another feedback, it really was a team effort. The 686 team was amazing they treated us so well with the set-up and support," commented Megan Johnson on participating and winning the RECLAIM Project.
"I'm very pleased that the first Live Reclaim Project was a success. I originally had two main goals in mind; one was to simplify the process of design and create a better sustainable product, and the other was to cultivate new creative talent. We were able to accomplish both and also managed to bring together key components and people in the snowboarding community." Mike West, 686.
---