BACK TO NEWS
EVENT: ProjectOR Gives Kids A Chance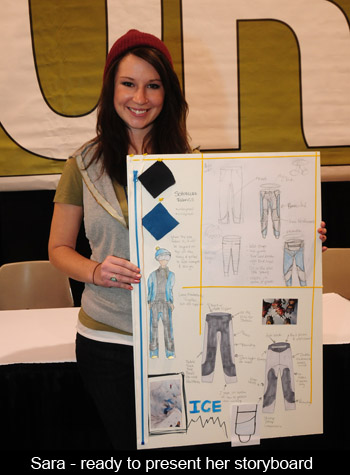 ProjectOR Gives Kids A Chance!
January 2011 marked the sixth ProjectOR event, a 48-hour design student contest at Outdoor Retailer. Malakye.com was fortunate to have an opportunity to select a student to participate via a design contest hosted on the Malakye website. Sara Creech, an Apparel Design major and senior at Purdue University in Indiana was selected to compete in the contest. Read on to find out about her experience in the contest, see her design, consider hiring her for your department, and think about what a great opportunity ProjectOR creates for the next generation of talent that will power our industry.
What was the objective of your design brief for Project OR?
In 48 hours, 6 student designers had to make a pair of ice climbing pants for women that look good and perform great. They must be durable, breathable and flexible enough for climbing with a price point of $330.
What was the inspiration of your design?
I wanted to make a pant that was both functional and feminine. I chose a monochromatic color scheme that was exciting but would also be approachable to a wide age range of women. I used 2 sets of Poron pads that were removable so that the user could customize it completely.
In your final presentation to the panel, you noted design changes you would make to your final garment. Why did you decide to bring those up at that point?
I did an internship in product development and have learned that the garments evolve over time. The first proto-type is never the best. For example, I initially chose a Schoeller fabric that appeared to be perfect for what I needed. The color was great, it had high durability and it was wind resistant. When I began construction, I realized the fabric would not lay flat and it would never be able to successfully reach the design goal. Although I can't ever go back and change it, I can learn more and improve upon my design.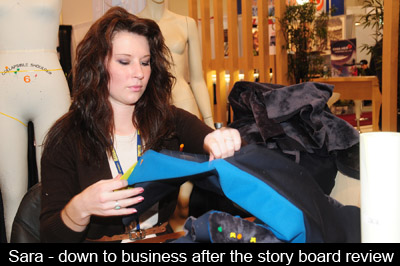 What did you think of the timed format? Did you feel pressure?
Although the 48 hours was plenty of time to pattern and construct the pants, in that 48 hours, we only had 2 hours to research the topic, design a product and create a presentation. I felt uniformed and completely rushed. There was no turning back on my design. I only had one shot. Although I am very proud of the pant that I designed, I wish I could have been able to research the topic and include more functionality.
What was the biggest surprise you encountered in the design and construction phase of the project?
Immediately after we presented our design boards, it was announced that we would need to use reflective materials in our garments. It seemed like a strange addition to the challenge. Everything else had been methodical and emphasized a specific functionality. This addition seemed odd and illogical.
How did you handle it?
In my design brief I had planned on integrating branding seamlessly into my design. I chose to make the two small logos and the rear pocket logo out of reflective tape from 3M. I think it was a perfect way of making the reflective element part of my design, not a last minute effort.
What was the highlight for you of the whole experience?
The highlight of the whole trip was the ability to walk the trade show floor and learn from the vendors. Everyone there was so welcoming and wanted to help me learn. I frequently took trips to suppliers to get materials and learn about their product. It was the best hands on experience a college girl could ever have! It was a great immersion into an industry that I would love to get into.
You recently finished your education with an Apparel Design degree from Purdue. What would you like to do next?
I would love to start a career in design for the outdoor industry. Going to OR only solidified these desires. Prior to the OR experience, I had focused on outdoor inspired clothing and cannot wait to design full time. The love for the outdoors stems from the things that I love in my life. I participate as well as design. I am passionate about designing clothing that is aesthetically pleasing and amazingly functional.
Feel free to contact Sara about career opportunities or her experience with ProjectOR.

Sara Creech
PORTFOLIO - http://box.net/screech
sara.e.creech@gmail.com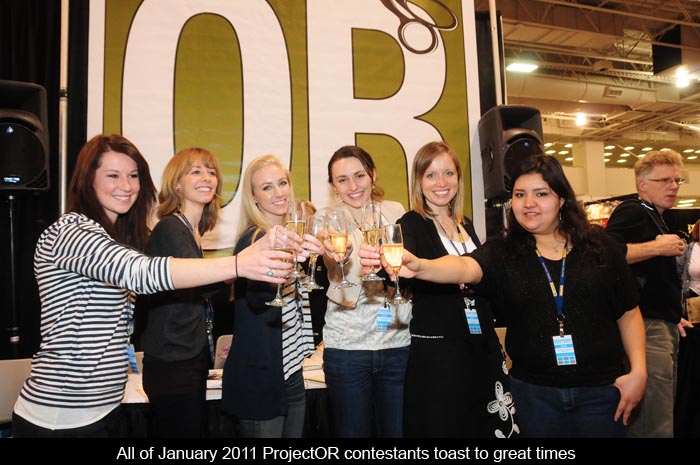 ---