BACK TO NEWS
EVENT: TOMS Shoes' 4th Annual One Day Without Shoes
TOMS Shoes' 4th Annual One Day Without Shoes to Take Place on April 5, 2011
One for One Company Hopes to Get One Million People Around the World to Go Without Shoes to Raise Awareness for Children in Need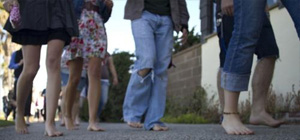 On Tuesday, April 5, TOMS Shoes will ask the world to go without shoes so that kids don't have to with its annual One Day Without Shoes event. This is the day each year that TOMS (www.TOMS.com) raises awareness of the impact a pair of shoes can have on a child's life. Last year, over 250,000 people went without shoes and over 1,600 events took place around the globe.
Millions of children around the world grow up without shoes, at risk of infection and disease. TOMS Shoes was founded on the premise that with every pair of shoes someone purchases, a pair of new shoes will be given to a child in need. One for One™. The idea of One Day Without Shoes came about as a way to call attention to the need for shoes around the world and the issues surrounding that need.
One Day Without Shoes participants can go to www.OneDayWithoutShoes.com to get all the latest updates, create and join events in their area, download an event tool kit, and see what others around the world will be doing on April 5. Participants can also stay connected through the new One Day Without Shoes mobile application, available on iPhone and Android. The application will enable users to share pictures instantaneously, provide music to get people going on their barefoot adventures, check out One Day Without Shoes merchandise, and more.
TOMS' Founder and Chief Shoe Giver Blake Mycoskie said, "The problem is large but the solution is simple. Wearing shoes and basic hygiene can prevent both infection and disease due to unsafe roads and contaminated soil. By imagining a life without shoes, we can all contribute to the awareness of these conditions, which is why we ask everyone to join TOMS on April 5 and participate in One Day Without Shoes."
For more information visit: www.OneDayWithoutShoes.com
---