Back to News
B$Z: Ledgend Board Co releases its first line of true twin-tip skateboards
March 21, 2011
Ledgend Board Co releases its first line of true twin-tip skateboards
A new company is designing innovative products to bring skateboarding into the modern era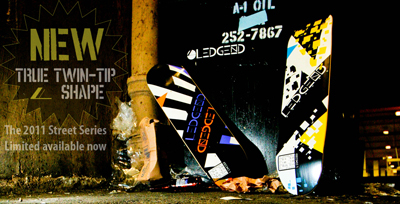 Ledgend Board Co, established in 2010, is releasing its first line of skateboards based on a proprietary true twin-tip design. Both shapes and graphics will be available through Ledgend¡¦s online store, local core shops and internet retailers immediately following this release. Twin-tip boards are nothing new, see snowboarding and wakeboarding, but make sense in skateboarding where half of the tricks are performed switch stance. Each Ledgend Board Co deck features the all-new ¡¥Skate Spec¡¦ box where the exact dimensions are printed directly on the graphic so consumers know exactly what they are buying and how to get it again in the future.
The idea for a twin-tip skateboard has been around since the beginning but has never been a more appropriate design until now. With cues taken from a vibrant sub culture, all Ledgend skateboards feature a true twin-tip design coupled with a detailed ¡¥Skate Spec¡¦ box. This box contains the vital information to skaters such as width, length, wheelbase, nose/tail size, concave, and kick angle. No more busting out the tape measure for every new deck and no more of the dreaded break-in phase getting used to a new shape.
Take notice of subtle graphic features like hidden shapes and mixed matte and gloss colors.
* Street Series Limited 2011
* True Twin-Tip shape
* Skate Spec Box
Established in 2010 and is based out of Phoenix, Arizona. With a commitment to innovative products and technologies, all Ledgend products are the highest in both quality and design. Also dedicated to environmental preservation, Ledgend seeks to minimize its carbon footprint with programs such as clean air web hosting and minimal packaging designs. The creative director and owner, Daniel Carlson, received his Bachelors Degree in Mechanical Engineering from Arizona State, while founding the first ever skateboarding club on campus. He has been skateboarding since grade school with a crew called Legend; the initial inspiration for the company.
With a commitment to lifestyles, local scenes, contests, and spots; expect to see Ledgend Board Co as a major sponsor and innovator for awesome events in the near future.
Welcome to skateboarding technica.
For more information please visit
www.ledgendboardco.com
---