BACK TO NEWS
EVENT: New Era Signs as Presenting Sponsor of the 13th Annual TransWorld SKATEboarding Awards Show
New Era Signs as Presenting Sponsor of the 13th Annual TransWorld SKATEboarding Awards Show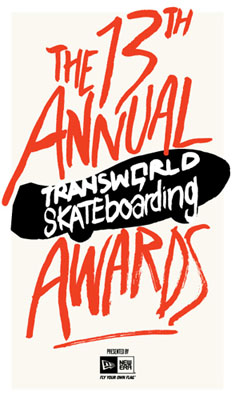 TransWorld SKATEboarding, the world's largest and most respected skateboard magazine, announced today that New Era Cap Co. has signed on to be the presenting sponsor of the 2011 TransWorld SKATEboarding Awards Show. The 13th annual red carpet event is the sport's biggest night of the year, bringing the top skateboarding pros together for one night to celebrate the year's most outstanding riders. The 2011 TransWorld SKATEboarding Awards will be held at the Avalon Hollywood in Hollywood, California, on Wednesday, May 18.
Hosted by Brian Schaefer, the 13th Annual TransWorld SKATEboarding Awards presented by New Era will honor the sport's top pros in nine different categories, as well as premiere TransWorld SKATEboarding's 23rd film, Not Another TransWorld Video, starring Nestor Judkins, Wes Kremer, Mike Anderson, Shane O'Neill, and Theotis Beasley.
"2010 was another monumental year for skateboarding, and once again we'll be honoring the ones who've left a permanent mark. And this year's video lineup speaks for itself. This year's Awards Show is gonna be big."— Ben Kelly, Editor, TransWorld SKATEboarding
As the presenting sponsor, New Era will produce custom TransWorld SKATEboarding Awards hats for all the night's presenters and nominees. A handful of lucky skateboarding.com website visitors will also have a chance to win one of these limited-edition New Era caps.
During the show, New Era will also present the Readers' Choice award, voted on by TransWorld SKATEboarding readers.
"New Era and TransWorld SKATEboarding have had a solid partnership since 2004, and as the relationship has evolved so has the level of commitment from both sides. Further integration into a premium and widely known event like the TransWorld SKATEboarding Awards mirrors New Era's continued growth within the skate market and will continue to celebrate some of the world's best athletes while helping take the TransWorld SKATEboarding Awards to the next level." – Braden Dahl, New Era Cap Co.
The 13th Annual TransWorld SKATEboarding Awards presented by New Era is supported by additional sponsors, including Red Bull and Skullcandy.
For special referral rate room accommodations (between May 16–18), you can contact The Roosevelt Hotel, Hollywood, CA, at 1-800-950-7667 and request the TransWorld SKATEboarding Awards rates no later than May 16 (rooms are limited and the special discounted rates are based on availability).
For more information on TransWorld SKATEboarding and 13th Annual TransWorld SKATEboarding Awards presented by New Era, visit skateboarding.com.

---