Back to News
B$Z: Bron Heussenstamm Launches Alex Maine, 100% Made in USA
April 14, 2011
B$Z: Bron Heussenstamm Launches Alex Maine, 100% Made in USA
Alex Maine Debuts Made-in-the-USA Upscale Apparel Brand; Website and Flagship Hollywood Store to Launch April 21st
Create Jobs, Buy American, Go AMerica! Alex Maine – "Alex" meaning "defender" and "Maine" meaning "homeland." The company stands up for the American economy by bringing textile jobs back to America, producing 100% of its product within the U.S. Its men's collection launches simultaneously with the opening of the Alex Maine flagship store on the famed Sunset Strip in Hollywood and an e-commerce site: www.alexmaine.us.
The inspiration for Alex Maine comes from founder Bron Heussenstamm. The grandson of a Pearl Harbor survivor, with two cousins currently serving in the U.S. Armed Forces, Bron is passionate about reversing the outsourcing of American jobs (In 2009, 97% of all U.S. clothing purchased was produced by foreign factories).
Alex Maine will focus its initial collection on mastering the important non-denim pants in a young man's wardrobe, bringing never before seen cuts, fabrics, and washes to pants. Alex Maine will roll out these pants along with t-shirts, hoodies and thermals for spring/summer 2011. The price points for the collection range from $35 to $49 for t-shirts, $90 to $105 for hoodies and $130 to $160 for pants. Initially, the collection will be sold exclusively via the Alex Maine store and website.
The Alex Maine flagship store is located at 8025 Sunset Blvd, amongst some of the most well-known real estate in the world. The 1300 -sq. ft. store will feature a shopping experience like no other. The joint retail/business set-up has the Alex Maine's office located upstairs, allowing Alex Maine an irreplaceable connection to its customers. A tailor will be on hand to help nip, tuck and fine-tune the namesake pants. Sewing machines are present in the store, allowing Alex Maine the unique ability to create one-of-a-kind items on site. To lessen the burden of the dreaded retail experience for young men, Alex Maine has installed a state-of-the-art home theatre complete with HD LCD flat screens, TiVo, Xbox, Nintendo Wii. There is also a bar, deep-set couches and other games. Explains Bron, "I really wanted a place for people to come and enjoy themselves. At Alex Maine it's come in and hang out, play a game, sit down and watch the Lakers, get your pants tailored."
Furthering its message that "We are all Alex Maines" and creating jobs for Americans, Alex Maine has established a revolutionary "Captains" program. Captains of America earn a percentage of sales on all Alex Maine items purchased through links posted on their blog, Facebook page, Twitter page, etc. To become a Captain, one can simply sign up on the website.
"Having grown up inside of a clothing store (Bron's father Paul Heussenstamm founded famed Southern California stores Newport and Huntington Surf & Sport), this is a dream come true for myself, my friends and partners, and Alex Maine's amazing head designer Dan Marriner, as well as the rest of the Alex Maine family," explains Bron, native of Los Angeles, California with a degree in Business Entrepreneurship from USC. "Patriotism and entrepreneurism are what this country was founded on, and the ability to merge them is an amazing feeling for all of us here at Alex Maine. Together, we can bring jobs back to this great country and show that the United States can be a leader, not a follower, in fashion manufacturing. It's a shift in thinking that needs to happen. Hopefully, we can be a small catalyst to this shift, and we can have some fun doing it while wearing some exceptional clothing."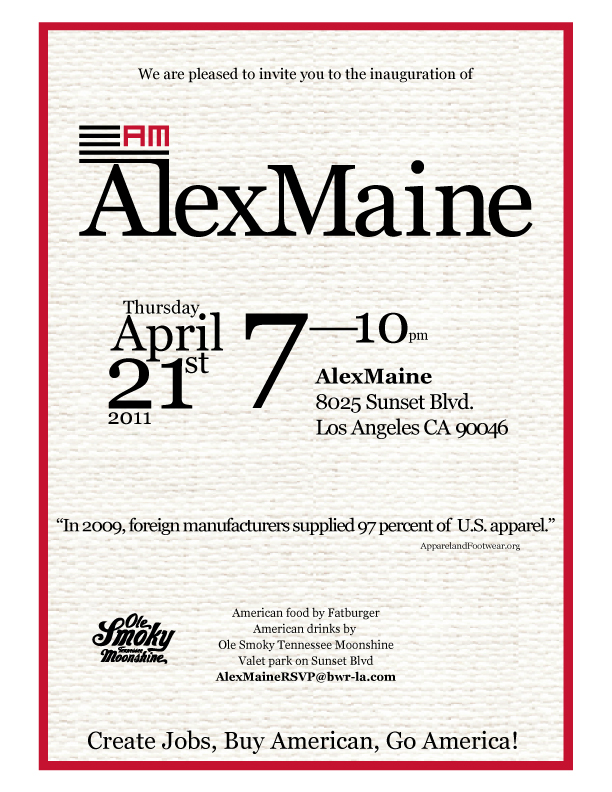 ---