Back to News
Monica Wise, Founder of L*Space
April 15, 2011
Monica Wise
Contributing Writer, Robyn Lass
Getting to know Monica Wise, Owner, Creative Director, Lead Designer of L*Space Swimwear
Laugh, Lounge, Love, Live… some of Monica Wise's favorite things to do. And who doesn't? These key "Ls" along with a lifetime passion for bikinis lead to the launch of L*Space Swimwear back in 2000. A vibrant and creative individual Monica is not only the owner, but also L*Space's creative director and lead designer. She's constantly challenging herself to take her brand, and swimwear in general, in new directions. We got a chance to chat with Monica about her beginnings, her inspirations, and where L*Space is headed in the future.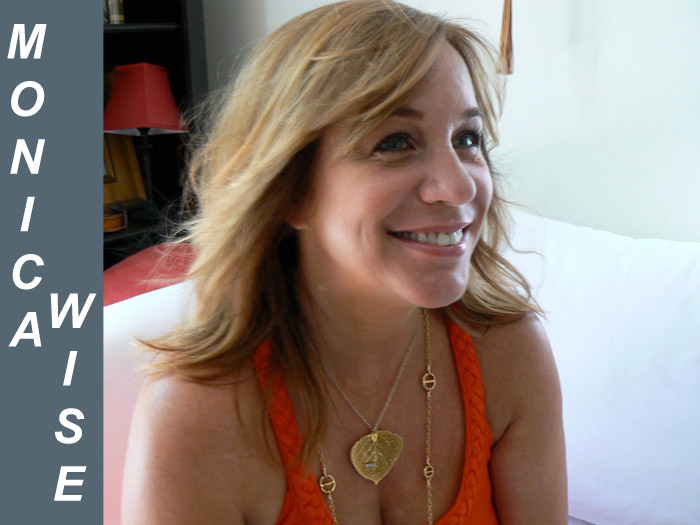 It seems like you've been a bikini babe since birth, prancing around your home in Ohio in your bikini as a little girl. When did you know you were going to start your own line?
I knew I would start my own line when I moved to Florida [in 1979]. I was inspired by the tan, toned bodies and the amazing scenery. I love everything about warm-weather climate so it was inevitable that I'd design swimwear.
What was the original inspiration for L*Space?
Originally, L*SPACE was a "surf inspired" brand, and catered mostly to the Jr. market offering mixing and matching separates. We still stay true to the mix and match mentality but now, we've grown with our original consumers and have entered into a more contemporary swim market, which is great for us. I think our brand still appeals to that Juniorr. girl that wants to dress more contemporary and that contemporary woman who wants to look and feel sexy. It's a great place to be.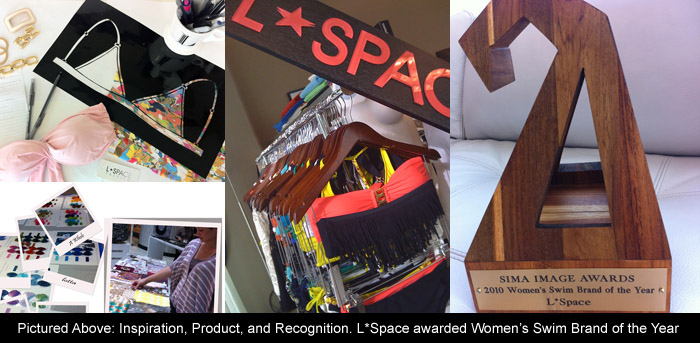 You obviously have an incredible eye for fashion, and you've added a few new lounge wear pieces for spring 2011. Why didn't you expand your line sooner?
When I think of warm weather, the first thing that comes to mind is a bikini. In my line, I try to emulate ready to wear fashion by offering trending patterns and colors. It was a natural progression into loungewear. People have been asking me to design apparel for a while, and I knew once the time was right it would happen. I think L*SPACE really needed that want from our fans to create the apparel side of it and I needed it to be done right. It hasn't really felt right till now.
How did you come up with the L*Space name?
I thought about some of the things I liked to do: Laugh, Lounge, Love, Live…and it just came to me. L*SPACE. I feel like it can mean many things to many people and there's not a right or wrong. Just like our suits, you can wear them any way you like by mixing and matching and it becomes special to the individual wearing it. So our slogan is "What's your L?"
What was the biggest challenge in starting your own company?
I would have to say that when I first started, I found it hard to give up tasks and ownership of things necessary to make the company run. I'd be designing, but I'd also be involved in packaging, production, distributing, calling our accounts, and managing our sales reps as well as fielding press and media. It was hard because this company is my baby and I wanted things to be done the way I wanted them done…that and I could only blame myself when something went wrong. As I've been in business longer, I've relied on my incredible team more and more and I trust them to make the best decisions for the company. That's the key to a successful company; to really trust your team 110%.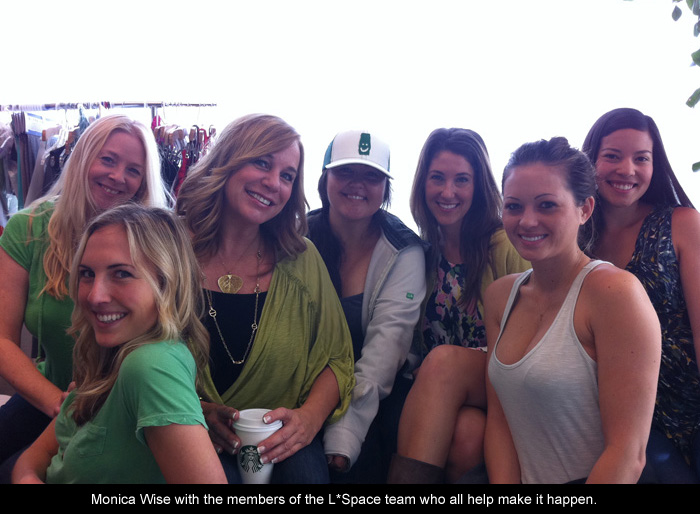 What has changed since you partnered up with C&C? [Note – C&C is well-established licensing company located in Irvine, Calif.]
My sanity! Haha! Just kidding. Actually, I'm not kidding. Dac and Paul are amazing partners and again, I trust them.
Between your eco-friendly Glamorously Green line and your Wild At Heart line benefiting the African Wildlife Fund, you've found unique and inspiring ways to give back. How do you decide what you'll get involved with or try next?
I never do anything without having passion and conviction behind it. Being "eco-friendly" is obviously ingrained in our brains so to me, it was a no-brainer to try out something that followed that mind set. As for the AWF, I'm a huge animal lover and a fan of saving wildlife and the land they live on. The AWF really has a great program going on.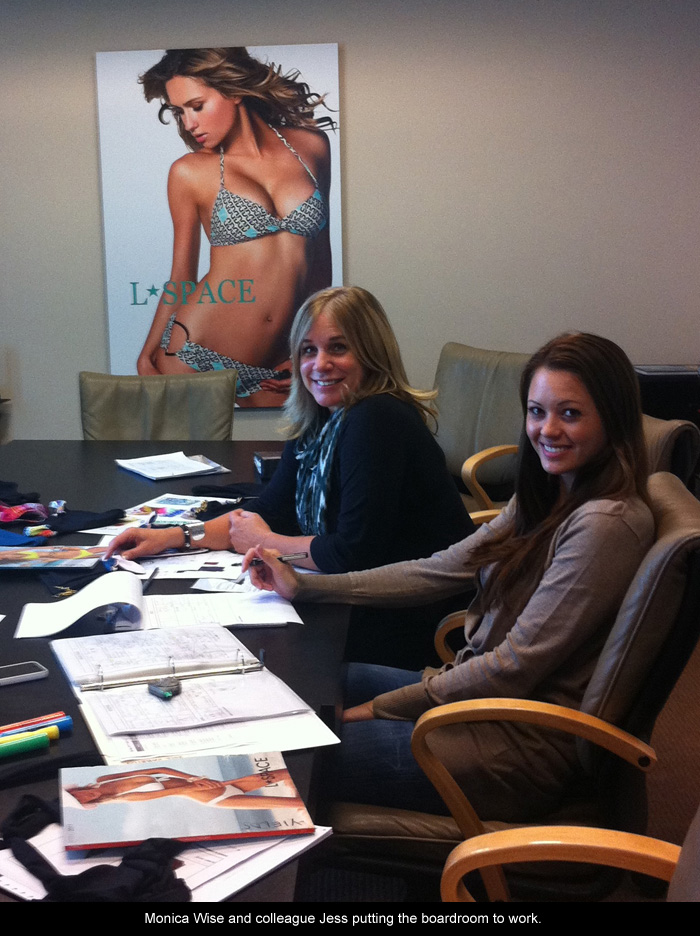 You seem to constantly strive to outdo yourself. How do you challenge yourself to keep innovating and pushing your fashions in new directions?
I travel to find inspirations and I also ask A LOT of questions to potential L*SPACE customers. I like knowing what people like weather it's a color, style, jewelry, label etc. and just by asking around, I find there's ton of inspiration.
You've earned both the SIMA Swimwear Brand of the Year and the Mercedes Benz Designer of the year awards. How do you top yourself year after year?
Actually, we've won "swimwear brand of the year" four times in a row, which is HUGE for us. It's humbling and I'm so honored that we are being noticed. The Mercedes-Benz award was incredible for us! But I don't think we look at it as trying to top ourselves. I think if you start thinking that way, you can run into trouble. What we try to do is just stay true to who we are and try to be nothing else but ourselves in anything we tackle and we've found that it comes naturally; as I think it should.
Spring is here (sort of!) and summer is just around the corner. What is the most exciting thing for you when bikini season really gets under way?
I love seeing what styles, colors, and prints stand out to our consumers. On a personal level, I just love the outdoor, free spirit mentality that Spring/Summer offer. Everything is so clean and fresh and I can hang up my jeans for a while and get some vitamin D!
You knew from a young age that bikinis were going to be part of your life. What advice would you give to a reader who has a similar inspiration and is looking to start their own business?
Stay true to yourself and if you don't wake up everyday loving what you are doing, then it's probably not something you should be doing.
---