BACK TO NEWS
EVENT: The Heavy Hitter Release Party
Arnette Presents The Heavy Hitter Release Party | April 28th | Cantina Lounge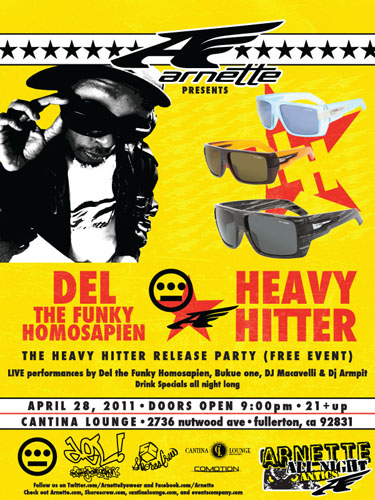 Arnette's new Spring 2011 eyewear collection just hit stores, and to celebrate this fact a special product release party will take place Thursday night, April 28th, at Cantina Lounge in Fullerton, CA.
The guest of honor will be Arnette's new knock-out frame, the Heavy Hitter, which packs a serious style punch!
The party is FREE and will feature LIVE performances by Del, Bukue One, DJ Macavelli and DJ Armpit. Drink specials will be in full effect all night, and a few lucky party goers will get hooked up with free shades and other Arnette gear. Doors open at 9pm and it's 21+ to get in. Hope you can make it!
Special thanks to Shorescrew and Cantina Lounge.
For more info, please visit: Arnette.com | Twitter.com/ArnetteEyewear | Facebook.com/Arnette

---