BACK TO NEWS
Industrial Profile
5/20/2011
Joe Freitag - Global Brand Manager, Arnette
Joe Freitag - Global Brand Manager, Arnette
Contributing Writer, Robyn Lass


You might not guess it but Arnette's Global Brand Manager Joe Freitag is an expert on the grill. Yup, in addition to his long history in action sports stemming way back to Sims Snowboards, to tackling the business world from the driver seat as a company owner, to his expertise in Japanese language and a stint in the land of the rising sun, Freitag has also fostered a flair for the open flame. So take a seat, grab a beer, and read up on one spicy career journey.

You've had a long and interesting career in action sports! Let's start with the present, what's a typical day-in-the-life for Joe Freitag, Global Brand Manager at Arnette?
I'd have to say my typical day isn't so typical. Depending on the season I could be in the office working with the crew on different strategic initiatives, out in the field with our athletes getting product feedback, or on a plane to a different country getting a feel for our business across the globe. That's what's most exciting about my role at Arnette – I get to be involved in and have an impact on many different aspects of the brand.

Rewind back, how did you manage to bridge the gap from your Japanese and fine arts studies at the University of Washington, into a career in action sports? Obviously that knowledge helped you during your time as the marketing and promotions manager for Gravis, Japan, but how else were you able to utilize this info?
I had wrapped up a BA in Japanese Language and Literature at UW, and was on my way to a BFA in Photography when the opportunity to work for Sims Snowboards came about. Let me rephrase that – I knocked on their door, asked for a job and they hired me. Art and photography were my first passions and I knew I wanted to pursue that as a career, so when the chance to work for Sims in their Creative and Marketing departments became a reality, I went for it.
Throughout the early days of my career I always worked closely with our distributors in Japan and that's where my desire to live and work in that market was fostered. After several years in the industry I met one of the founders of Gravis, and after finding out I spoke Japanese and knew the industry, he offered me a job to live and work in Tokyo as the Marketing and Promotions Manager for Japan, so I jumped on it. Japan is such a rich and interesting market, and it's one of the first to really embrace American youth culture in a commercial way, so the knowledge of the language, market and especially the culture has been critical in doing business there. Now the tables have turned a bit – Japanese youth brands are very popular in other parts of the world and are driving trends, and insight into the current state of youth culture there can help US-based brands stay ahead of the game.
You've come a long way from your roots in Seattle. Looking back on your career, from those early days at Sims Snowboards to your current position at Arnette, what are the biggest lessons you've learned?
It's important to be patient, passionate and diligent – brands aren't built overnight. I know it sounds cliché, but it's true. Brands that are meaningful and have longevity don't happen by accident.
You obviously have a passion for art. Tell us about some of the artists you've worked with over the years and the collaborations you put together.
Gravis was one of the first brands that kicked off the idea of artist collaborations, and I'm lucky to have been a part of that time. We worked with artists like Stash, Futura 2000, SSUR and Phil Frost, and although I didn't personally put those collaborations together, I worked closely with the artists on launching the projects in Japan. Continuing in that tradition at Gravis, I put together collaborations with some very talented Japanese artists on different product and event initiatives; most notably South, Kami and Nesm.
You owned your own company, Elevate(r) Design, with your wife for a couple years. What was the biggest challenge in owning your own business and also building a business with your significant other?
Elevate(r), which is still run by my wife Yumi, was a chance for us to take our collective skill-set and offer a unique blend of creative and marketing services to companies that wanted to strengthen their business in Japan. I'd say the toughest part was breaking into the US market after being out of it for a few years – we started everything from scratch. Building a business with my wife was a dream come true! She's an incredibly creative and talented individual and it was finally our chance to work together and build something. She has recently launched a really great blog that's worth checking out: www.athomegirl.com.
And then you joined Arnette as the Brand Manager in 2005. How was it re-joining the world of a big company after handling everything yourself for a while?
I first have to say that when the opportunity to join Arnette presented itself I couldn't pass it up. Arnette is one of the few brands that truly defined the youth-lifestyle/action sports category and I wanted to be a part of that. The transition from being independent to working for a large corporation wasn't that tough since I'd done it before and was eager to sink my teeth into the project.

And you've been with Arnette now for six years! What accomplishments are you most proud of and what were or are the biggest challenges faced during your time with the brand?
The thing that I'm most proud of is the recent re-launch of the Arnette snow goggle program. We were out of the goggle market for a while and over the past couple years we've rebuilt the entire program from scratch – product, team, marketing – the whole nine yards. There was a lot of blood and sweat put into what is now some truly amazing products and a team that embodies the spirit of what Arnette is all about – getting out there and having fun with your friends.
The biggest challenge is making sure that Arnette, a brand that originated and defined the youth eyewear category, is able to continue to get its message across in a growing competitive global landscape. There are a lot of brands out there fighting for a finite amount of space and consumer attention – and I'm not just talking eyewear – so it's critical to maintain an evangelical voice when it comes to communicating what the brand is all about if we're going to continue to grow.
Also, we're a very small and tight team at Arnette and I certainly haven't done it alone. Brent "Beandip" Bearden, who handles all of our team and events initiatives, has been with the brand almost as long as I have and has been a key player in building Arnette. His efforts and passion for the brand are immeasurable.
And apparently action sports isn't your only passion? Sounds like you've put a lot of time and energy into your barbeque hobby. How did that come about?
That's a long story, but let's just say that when I get into something I tend to REALLY get into it. I started off grilling, and thinking I was king of the neighborhood (like most guys), when about 9 years ago I came across a book that talked about the regional differences in BBQ across the US. This wasn't your typical backyard type stuff – it really opened my eyes to the long heritage of slow smoked BBQ in different parts of the country. I tried my hand at smoking ribs, pork shoulder, brisket, chicken, fish, etc. and decided that I would take a shot at competing. I entered a couple of competitions in California, loved it, and decided to become a KCBS (Kansas City BBQ Society) certified judge so that I could sharpen my skills when I can't compete. The rest is history.
What BBQ events or projects do you have coming up?
Since work has kept me so busy I haven't had much time to compete or judge lately, but there is a contest coming up in August in Vista, California, that I'm looking to get involved with. I'd love to compete at that one, but I may have to settle for being a judge – which isn't too shabby of a job.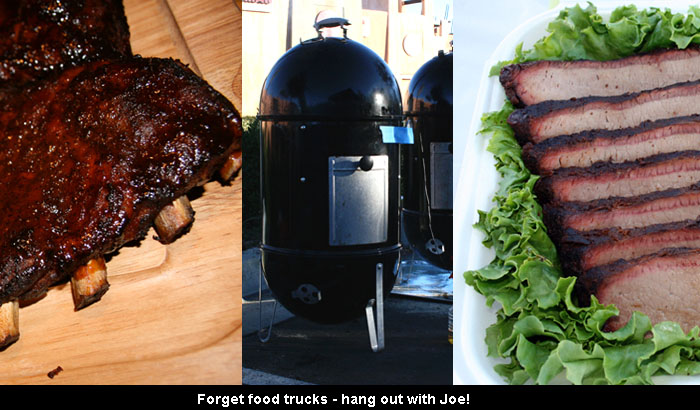 Any tips for your fellow BBQ enthusiasts out there?
The most important thing to remember is that it's all about enjoying quality time with family and friends. Now that I have that out of the way…
It's important to know your terminology if you're going to be serious. When you cook food quickly over high heat it's "grilling," and the food you produce is "grilled food." When you cook food slowly over low heat it's "smoking" or "cooking," and the food you produce is called "BBQ."
BBQ is about the meat, not the sauce. Use sauce sparingly, if at all.
If ribs are "fall-off-the-bone good," they're overdone and might be good for the backyard but will land you dead last in competition.
Never poke or cut into grilled steaks, the flavor is in the juice. Also, let them sit for 2-5 minutes after you pull them off the grill so the juice (read flavor) stays in the meat, not on your plate.
That about covers it!
For more info on Joe and Arnette:
http://www.arnette.com/ & http://twitter.com/JoeFreitag
---