Back to News
B$Z: The SURF RESOURCE NETWORK joins forces with SDSU
May 23, 2011
The SURF RESOURCE NETWORK joins forces with SAN DIEGO STATE UNIVERSITY PROFESSOR to develop the world's first CENTER FOR SURF RESEARCH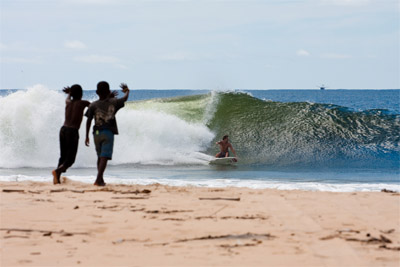 The SURF RESOURCE NETWORK has joined forces with Dr. Jess Ponting, a leading expert on sustainable surf tourism and a current professor at San Diego State University, to help develop the world's first CENTER FOR SURF RESEARCH. This collaboration effort takes a step in the right direction at addressing an exponential problem within surf tourism.
The Problem: As traveling surfers continue to expand their horizons to the farthest corners of the globe they pave the way for larger scale tourism industries to follow and too often create a legacy of soiled destinations, disheartened and distressed communities, and missed opportunities to replace poverty with sustainable livelihoods.
The Vision: Surfing's impact on the world is entirely positive. By incorporating principles of sustainable tourism, surf tourism promotes healthy lifestyles and is a key driver for the environmental, social/cultural, and economic well being of destinations.
The CENTER FOR SURF RESEARCH is a non-profit research and teaching center housed in SDSU's Sustainable Tourism Program under the L. Robert Payne School of Hospitality and Tourism Management. The CENTER FOR SURF RESEARCH provides leadership in the struggle for sustainability in surf tourism by: Shaping Responsible global citizens through life-changing experiential learning opportunities for students and the wider community; Creating and disseminating specialist knowledge to governments, the surf industry, tourism developers, destination communities, non-profits, and tourists; and by inspiring and driving active stakeholder engagement with the social and economic development of destination communities, sustainable use of their resources, and conservation of their critical environments.
The SURF RESOURCE NETWORK recognizes high quality surf as a valuable natural resource, which can be leveraged to provide means for community development. Their mission is to support local economies by partnering with organizations working to create positive outcomes for developing communities in surf rich regions. The SURF RESOURCE NETWORK supports local economies by raising funds for our partner organizations, facilitating the placement of volunteers within these organizations, fostering research and education, spreading awareness, and developing sustainable projects to better the lives of individuals in the community. The SURF RESOURCE NETWORK makes it easy for surfers to help local communities by providing a directory of "SRN Approved" accommodations, service providers, and volunteer opportunities around the world, which give a percentage of profits back to community based projects.
http://vimeo.com/21068226 - Check out the video!

---