Back to News
B$Z: ARNETTE Servces Up Ice Cold Shades For A Long Hot Summer
June 15, 2011
ARNETTE SERVES UP ICE COLD SHADES FOR A LONG HOT SUMMER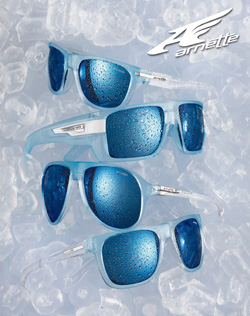 Just in time for summer, Arnette is proud to announce its new Ice Pack is now available at retailers nationwide.
Reflecting the fun creative energy and bold attitude that defines Arnette, the Ice Pack is inspired by the good times and frosty beverages served up at summertime block parties and backyard BBQs.
As one of the primary color stories of the season, the Ice Pack features a brand new Ice Blue frame color combined with Blue Mirror lenses to keep things extra cool when the sun is blazing hot.
The Ice Pack consists of four key Arnette styles including the all-new Heavy Hitter, as well as the retro-inspired Venkman, Fire Drill and High Life. All four sunglasses feature shock-absorbing polycarbonate lenses to block harmful UV rays, with frames made from high-grade Grilamd nylon plastic for superior comfort and fit.
Sunglasses in Arnette's Ice Pack are sold separately, and retail prices range from $69.95 to $89.95 depending on model.
For more information, please visit:
www.arnette.com | www.facebook.com/arnette | www.twitter.com/arnetteeyewear
---