BACK TO NEWS
EVENT: TransWorld SKATEboarding and MAHFIA.COM Team Up
TransWorld SKATEboarding and MAHFIA.COM Team Up For A Female Industry Ride Session On Go Skateboarding Day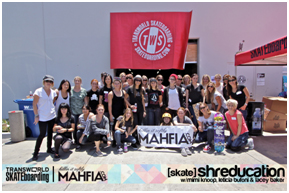 TransWorld SKATEboarding and MAHFIA.COM joined together during Go Skateboarding Day on Tuesday, June 21 at the TransWorld Media headquarters inside the 5,000 square foot skate park for their second ever session of an ongoing action sports female industry ride day series. Tuesday's shreducation was focused on skateboarding where pro riders such as five-time X Games medalist, Mimi Knoop, Maloof medalist Lacey Baker, and street skaters Leticia Bufoni, Eliana Sosco, Jessica Florencio and Cara-Beth Burnside all showed up for the festivities to ride, teach and hang out with fellow ladies from within the action sports industry.

Following the recent news from ESPN on the cancellation of its women's vert skateboarding competitions at the X Games in addition to Dew Tour's cancellation of its women's street event, industry ladies were able come out and skate to help increase awareness of a demographic in skateboarding that is most often overlooked.

"Having a ladies industry ride series will help to bring together the women who are an integral part of the action sports industry," said TransWorld Media's Lauren Machen. "These events are designed to enable ladies to network and improve on sports such as skateboarding, snowboarding, surfing, wakeboarding, and motocross and bmx riding in a laid back, enjoyable and unintimidating environment."

The skate shreducation kicked off its first session at 10am, followed by lunch from Chipotle and an afternoon session at 1:30pm. Over 40 ladies and little groms from throughout the industry came out to participate. Additional sponsors for this event included Chipotle (www.chipotle.com), DC (www.dcshoes.com), etnies (www.etnies.com), Fydelity Stereobags (www.highfydelity.com), Hoopla Skateboards (www.hooplaskateboards.com), Osiris (www.osirisshoes.com), popchips (www.popchips.com), vitaminwater (www.vitaminwater.com) and Volcom (www.volcom.com). A special thanks goes out to Mahfia.com, The Side Project and skate photographer, Ana Paula Negrao for all of the amazing additional coverage.

To check out photos from the event, go to http://business.transworld.net/66305/features/mahfiacom-hosts-girls-shreducation-at-transworld-skatepark/ Stay tuned for more photos and videos as well on mahfia.com.
---