Back to News
B$Z: Dogtown Skateboards is proud to announce the signing of Tosh Townend to its legendary team
July 7, 2011
Dogtown Skateboards is proud to announce the signing of Tosh Townend to its legendary team
Tosh was recognized at a young age for possessing a grown up style of skateboarding. He grabbed the attention of the skateboard world when he feeble grinded El Toro at the age fifteen.
"Dogtown is a perfect fit for me, it has deep heritage within skateboarding and surfing," said Tosh. "I have always been stoked on what Jim has done with the company, when I had the opportunity to join the family; there was no decision to be made, but to ride for Dogtown."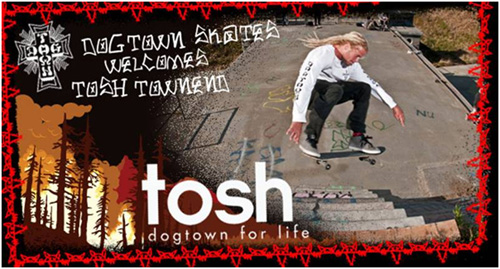 "We look forward to the contributions that Tosh Townend will bring to the table. Tosh brings a veteran knowledge and experience of what needs to be done as a pro. He understands the history and tradition of Dogtown and promises to bring the same 'Skate for Life' commitment", says Jim "Red Dog" Muir, (Dogtown Founder/Owner).
Dogtown will be launching Tosh Townend pro model decks, t-shirts and including a cruiser skateboard. Check the release dates of all of his products on the Dogtown website, http://www.dogtownskateboards.com/team/skate-team/tosh-townend.
Tosh will be skating at the Dew Tour and Maloof Money Cup, along with other events this summer.

---