Back to News
B$Z: Huntington Beach's Chuck Linnen to Enter Surfers' Hall of Fame
July 19, 2011


Huntington Beach's Chuck Linnen to Enter Surfers' Hall of Fame
Chuck Linnen, one of the original 'HB Boys of 55' and an iconic member of the local surfing community, will have his hand and footprints immortalized in cement on Friday, August 5 at 10:00 a.m. in front of Huntington Surf & Sport (corner of PCH and Main). Famed sports announcer/commentator David Stanfield and five-time U.S. Surfing Champion Corky Carroll, a mentee of Linnen, will serve as Masters of Ceremony. Detailed information is available at http://hsssurf.com/shof.
The Surfers' Hall of Fame induction ceremony pays tribute to those individuals who have made an indelible mark on the sport, industry and culture of surfing. Annually, tens of thousands of visitors to Huntington Beach's downtown area literally walk in the footsteps of surfing superstars and legends from several eras including Laird Hamilton, Andy Irons, Jack O'Neill, Corky Carroll, Robert August, Bob Hurley, Sean Collins, Kelly Slater, Lisa Andersen, Pat O'Connell, Al Merrick, Shaun Tomson and Rob Machado who are already immortalized.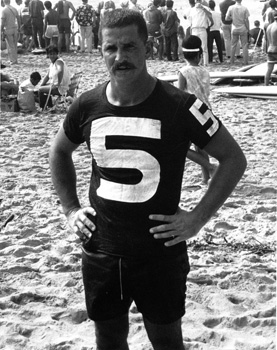 A longtime Huntington Beach surfer, Chuck rode his first wave in 1954, was a men's finalist at the 1958 Oceanside Invitational and competed in his first U.S. Championships in 1959, held in his hometown. Linnen was among the first wave of California surfers to travel to the North Shore in the early 1960s and was a finalist at the 1961 world contest held at Makaha. He also competed at the 1964 world contest in Peru and was runner-up at the Malibu Masters event in 1973.
Linnen helped shape the culture and character of Huntington Beach as a mentor and role model to local surfers—teaching future legends like Corky Carroll how to "shoot the pier." "The first time I saw Chuck was the first time I surfed the pier in about 1957," said Corky. "I was too chicken to shoot the pier. Chuck saw this and coached me on how to do it. I didn't know who he was and I asked somebody else in the water and they said, oh, that's Charles. He is one of the best guys out here."
The "surf king" as many called him was a member of the Huntington Beach Surfing Association and 'The Boys of 55' surf club. Back before there were surf contests at the pier, surf magazines, surf movies and surf shops in Huntington Beach, a bunch of surfers including Chuck, who loved the waves at their Huntington Beach pier got together to form the HB Pier Surf Club. They were the pioneers of "Surf City" long before Jan & Dean sang about it and they laid the groundwork for Huntington Beach to become one the greatest surf communities in the world.
"Chuck Linnen is a home grown Huntington Beach Surfing legend, former lifeguard and a friend to many in our great city," said Surfers' Hall of Fame founder Aaron Pai. "We are honored and extremely excited to induct him into the Surfers' Hall of Fame."
A retired Irvine high school teacher, Linnen most recently held the NSSA Senior Champ and WSA Grand Master titles. The Surfers' Hall of Fame induction ceremony is open to the public, free-of-charge. Further information is available at http://hsssurf.com/shof/.

---