BACK TO NEWS
EVENT: TransWorld SURF To Premiere Surprise Excitement Party
TransWorld SURF To Premiere Surprise Excitement Party During Nike US Open Of Surfing Festivities

TransWorld SURF brings the industry another epic film, this one titled Surprise Excitement Party. Currently previewing along the East Coast in conjunction with Billabong's Show Up And Blow Up 30-stop tour, Surprise Excitement Party will head back out West and premiere during the largest surfing event in the world, the Nike US Open of Surfing. The film will debut at the Lido Theatre in Newport Beach, California, on Wednesday, August 3, as a double feature, including a special showing of Red Bull Minor Threat. Admission is free to the public, and the film rolls on at 8:30 p.m.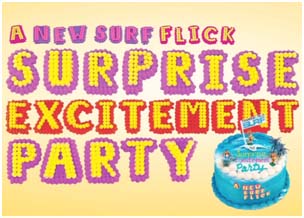 TransWorld SURF's Surprise Excitement Party features some of the raddest top surfers including Conner and Parker Coffin, Michel Bourez, John Florence, Mark Healey, and slew of surprise guests. You will be on the edge of your seat as you experience it all in HD, and if you can top that, glorious GoPro 3D. "This year's TransWorld SURF film, Surprise Excitement Party, will slap you silly and light your fuse 'til you explode with stoke," says Editor In Chief Chris Coté. "From some of most insane wipeouts, bikini-clad cake fights, near-death drops, impossible airs to unreal explosive antics, this movie will destroy your brain!"
The double-feature evening keeps the camera rolling with Red Bull Minor Threat. Directed by Kai Neville, Red Bull Minor Threat is action-packed with solid shredding by elite riders including Bruce Irons, Jamie O'Brien, Kolohe Andino, Conner Coffin, Ian Walsh, Adriano De Souza, Evan Geiselman, and Cristobal De Col.
Make sure you show up early to guarantee your seat!
---