Back to News
TV: DC Announced the Making of Gymkhana Four
July 26, 2011

DC Announced the Making of Gymkhana Four
DC and Ken Block are proud to announce that production has begun on another gymkhana video project titled, Gymkhana FOUR. Fans can expect all of the driving precision, speed, and tire smoke that Ken has become known for to be taken to a whole new level with his latest project, set to be released in late Summer 2011. To chronicle the making and upcoming release, DC is launching a Gymkhana FOUR web page today at: http://www.dcshoes.com/auto. Fans of the DC x Ken Block Gymkhana video franchise can check the website to see exclusive photos and news leading up to the release of Gymkhana FOUR.

"The DC x Ken Block Gymkhana franchise of videos is the most successful viral video content ever produced from the action sports, footwear, and auto industry," said Anton Nistl, DC's President. "It's with amazing content like this that DC extended its reach in the digital and social media realms, we've seen our Facebook page grow from one million followers last October, to an industry leading 5.6 million. With Ken and our in-house DC creative team working to produce the finished product, the new video will undoubtedly be the most successful video yet."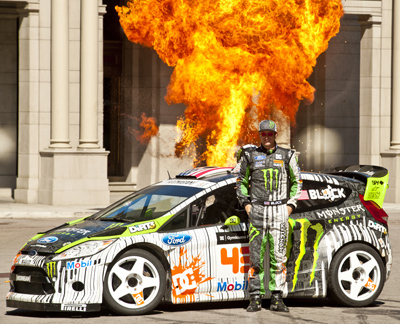 The car that Ken used for this project is a brand new racecar that his Monster World Rally Team recently completed. A modified 2011 Ford Fiesta, the car (codenamed the H.F.H.V.) made its first debut to the public this past Saturday at the Gymkhana World Tour event at Dodger Stadium in Los Angeles, CA. It will be used again later this week when Ken competes at X Games 17 in two separate rally events, Rally Car Racing and RallyCross.

"I'm unbelievably stoked about how Gymkhana FOUR is going," said Ken. "I did it in a brand new racecar that we've just finished building and it's an absolute beast. Plus, the concept for this next chapter is on a completely new level. The locations we visited and action we documented are absolutely wild. Fans are going to be floored when they see the finished clip. I can say with full confidence that Gymkhana FOUR is going to be better than Gymkhana THREE. And that is saying a lot, because I thought I would never be able to outdo GYM3."

The car used for Gymkhana FOUR, named the H.F.H.V. (Hybrid Function Hoon Vehicle), is a 100% new car for Ken. It incorporates the word hybrid into its name based on it being a multi-discipline vehicle. With quick changes, it can be set up for three distinctly different driving modes: performing gymkhana, racing in RallyCross and racing in the U.S. Rally America series. Visually, fans will be able to tell which setup the car is in based upon wheel colors and styles. The color-coding is: white for gymkhana, green for RallyCross and black for Rally America. In addition to the visual cues, the H.F.H.V. also undergoes less visible, internal changes between setups, such as the radiator moving between the front and the rear of the car depending on the cooling needs of the mode it's in, as well as each mode having its own individual suspension setups, engine programs, turbos, restrictors and more.

To accompany the all-new build, a new livery has been created that retains the drip element from Ken's Gymkhana THREE car, but incorporates vertical pin stripes as well as a tonal repeat pattern from Ken's 2011 Ford Fiesta RS WRC car. Block's newest DC footwear and apparel, inspired by the updated car livery, will be featured in Gymkhana FOUR and become available to consumers when the video launches.

Since launching the first video, Gymkhana Practice in 2008 the franchise has expanded to include two other major videos, Gymkhana TWO and Gymkhana THREE, as well as a number of supporting clips. To date, the franchise of driving performance videos has been viewed more than 110 million times globally, making it a viral phenomenon. Recognized far beyond the action sports and auto industry, the videos have won numerous creative awards and made prestigious lists. Most recently, Gymkhana THREE made YouTube's official list of the "Top 10- Videos of 2010" and Ad Age's list of "Top Viral Videos of 2010."

For more on DC, Ken Block and the DC x KB Gymkhana Franchise please visit http://www.dcshoes.com/auto. Stay tuned to DC's Facebook page http://facebook.com/dcshoes for the latest news on DC athletes and product.

---