Back to News
B$Z: Finless Surfboard Wins Australian International Design Award
August 1, 2011
Finless Surfboard Wins Australian International Design Award
The Seaglass Project Tuna, a finless Alaia-style surfboard from Global Surf Industries (GSI), has been announced the winner of a prestigious Australian International Design Award (AIDA), receiving the Design Award™ for design excellence. After a record number of entries, the 2011 Presentation Ceremony took place on Friday, 22nd of July in Melbourne. 2011 also marked the inaugural year of the AIDA under the custodianship of Good Design Australia.
Hawaiians have been riding "alaias" – traditional finless craft – for centuries. Bringing his experience to GSI is alaia enthusiast and 2009 Surfer Magazine board shaper of the year Tom Wegener. Tom first shocked the surfing community in 2005 with claims that the ancients, with their thin, finless wooden boards, were far more advanced than we ever thought possible. The "Tuna" is an extension of ancient surfing, designed with the perfect blend of flex, rail and bottom contours, and combined with modern materials to increase flotation.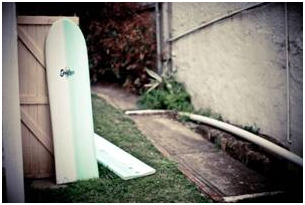 Surfing on traditional wooden finless boards is something only highly skilled surfers can become proficient at. The award winning collaboration with GSI opens the door for everyone to enjoy the unique experience, which is one of very little drag or surface tension, and freedom with the ride.
"The alaia works off a different set of principles than our modern surfboards, and The Seaglass Project is about taking the ancient's knowledge and applying it to modern materials," said Tom Wegener.
"I'd like to hope I can share this fantastic Australian International Design Award with those generations of great surfboard shapers from the distant past."
The Design Award™ award and trademark is a highly respected symbol that gives consumers added buying confidence. The AIDA are one of the longest standing and most prestigious design awards in the world, representing excellence in form, function, quality, safety, sustainability and innovation – the cornerstones of great design.
The 2011 AIDA achievement marks the second year of success for GSI, with the acclaimed Meyerhoffer surfboard taking out a 2010 accolade. For GSI's Managing Director Mark Kelly, it reaffirms the choices made on some of their less than traditional shapers.
"I am extremely proud of achieving AIDA recognition two years running. This feat has rarely occurred and is an extremely prestigious honor. Our goal to be the best surfboard company in the world is being recognized here by these awards," said Mark Kelly.
"The surf and active lifestyle industry that GSI works in is quite niche, so to be honoured with these awards by a wider audience is fantastic. We get to do what we love every day, which is work with great people like Tom Wegener and design cool stuff for people to use, enjoy and enhance their surfing experience."
The award winning Seaglass Project Tuna is available now from Global Surf Industries, RRP $695.00. To find your local store or purchase globally online, visit
www.surfindustries.com
.
---