Back to News
B$Z: Freewaters Flows Across the Pond and Launches in Europe
August 2, 2011
Freewaters Flows Across the Pond and Launches in Europe
Philanthropic footwear announces new joint venture with Freewaters LTD
Freewaters is pleased to announce today their cross-continent joint venture, Freewaters LTD. Headed up by industry veterans Peter Caldwell and Myles Hutchins, Freewaters LTD is based outside of London and will manage all Freewaters European operations which currently includes the UK, Ireland, Germany, Netherlands, France, Switzerland and Portugal. Caldwell and Hutchings bring over 20 years of experience building brands in Europe including Reef, O'Neill and Firewire.
"We are keen to help establish Freewaters as a premier global brand and to provide clean drinking water to those in need, " said Caldwell. "The global business climate has changed dramatically. With the traditional distributor model no longer viable, this joint venture agreement sets the stage for us to be highly competitive."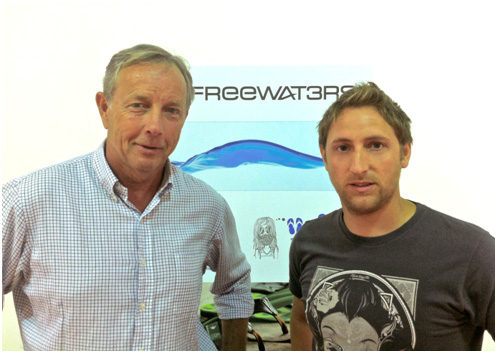 (Photo) Freewaters LTD co-founders Peter Caldwell (L) and Myles Hutchins (R)

Freewaters LTD has already experienced a positive response and strong sell through since their soft launch of the sandal line in April 2011. Initial retail accounts include Snow & Rock, Hawaii Surf, Hardcloud and other reputable independent shops. "There is already big buzz about the Freewaters House Shoe program which drops this October," says Hutchins.
The Spring 2012 prebook season, which kicks off now, marks the official and full launch of Freewaters in Europe. "Teaming up Peter and Myles allows us to greatly expand our mission of improving the quality of life through superior product experience and through clean drinking water initiatives," said Freewaters Co-Founder, Eli Marmar. "Launching the brand simultaneously in North America and Europe, while untraditional, has proven to be very symbiotic and now it's time to water the seeds we have planted."
---