Back to News
B$Z: Lucky 13's still rockin' after two decades
August 31, 2011
Lucky 13's still rockin' after two decades
The Santa Ana-based clothing label celebrates 20 years of fashion.
By KELLI SKYE FADROSKI / THE ORANGE COUNTY REGISTER
In 1991, Bobby Kloetzly, Arnie Sakamoto and a few of their friends started Lucky 13 out of a building in Westminster. Twenty years ago, Kloetzly says the guys had no idea what they were doing, they just knew wanted to start a clothing line that created gear that fit the lifestyles of their friends who were musicians, tattoo artists and guys who liked to wrench on hot rods and vintage motorcycles.

Lucky 13 has become a staple in Southern California, especially in the punk rock, psychobilly and rockabilly music scenes. The label has had a strong presence for years at the annual Hootenanny festival, held every summer at Oak Canyon Ranch in Irvine, as well as the Musink Tattoo Convention and Music Festival which takes place at the OC Fair & Event Center in Costa Mesa in March.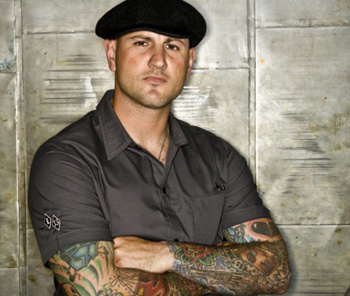 Last month, the company held a 20th Anniversary bash, themed "Tiki Highway," at Don the Beachcomber's in Huntington Beach. The day-long event included a classic car and motorcycle show, tiki carvings, tattoo artists, burlesque shows, original artwork on display, pin-up girls and performances by local rockabilly acts. More than 2,000 people showed up to the shindig, according to Lucky 13 marketing director Heath Cofran.

"It was insane," he says during a recent interview. "We just love representing the lifestyle and that was us giving back, by putting on this type of event for free and having everyone come down to celebrate Lucky 13."

Cofran, who has now been with the company for 11 years, says that before he was actually employed by the label his band, Huntington Beach-based pop/punk outfit Mind Driver, was sponsored by Lucky 13 and would often receive free clothes. Wanting to work at the label so badly, he bugged Kloetzly religiously to hire him.

"I kept hitting him up for a job and he said 'no, no, no' for four years and then eventually he gave me a job," he says with a slight laugh.

Now based in a large warehouse in Santa Ana, Lucky 13 runs like a well-oiled machine, with about 80 percent of the total manufacturing happening on-site. It's not much to look at from the outside, but once through the doors, its reception area is welcoming, bright and fun with numerous tiki sculptures scattered around the room, vibrant wall colors and, of course, giant posters of models sporting its signature swag.

Lucky 13's style, for women, includes pin-up and 1920s-'40s style dresses in various colors and patterns, pencil skirts, halter tops and button-up cardigans. For men, the fashion features a lot of collared work or bowling shirts in various colors and patterns that include embroidery. T-shirts and tanks include traditional style tattoo flash such as skulls, roses, crosses, vintage pin-up girls, anchors, cars, motorcycles, guitars and more. Lucky 13 even designs clothing for babies, tweens and toddlers.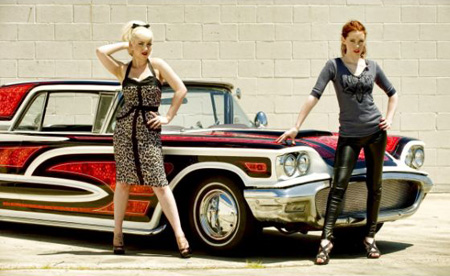 The latest venture for Fall/Winter is western-style shirts in several patterns – including some plaids – dubbed "Vintage Americana." For women, sales manager Shannon Ford says that the label is building on its best-selling dresses and offering pieces in a wider variety of colors and styles and even introducing new plus-sizes into the Fall/Winter catalog.

"We're expanding, but also staying true with what we have always offered, we're going slightly higher end as well," she adds.

Ford, who has been with Lucky 13 for about a year and a half, says that the appeal of the line is that it's very much classic.

"It's very much American," she says. "I think it's something that appeals to a lot of different people of different ages and with classic cars – what guy doesn't think that classic cars are cool? That's something that my 12-year-old nephew thinks is great and something that my 60-year-old father is into. I can take them both Lucky 13 (merchandise) and they both love it."

Lucky 13's headquarters also has a band room, so when artists such as Bouncing Souls, Face to Face, Dropkick Murphys or Nekromantix – all of which have had merchandise designed by the company – decide to stop by, they have a place to chill and even do a small performance if they feel like it. Upon a recent visit to the warehouse the Chop Tops, a rockabilly trio from Santa Cruz, were hanging out – sporting Lucky 13 gear from head to toe and rehearsing a few songs.

Guitarist Shelby Legnon, bassist Brett Black and vocalist and drummer Sinner say that they have always worn Lucky 13, even before they started getting it for free, and that the clothing line hit the mark on truly understanding and respecting the rockabilly/psychobilly culture in general.

Two decades in business is no small feat. Kloetzly admits there were some rough patches and even he can't believe they've come upon the 20-year mark.

"I definitely wasn't expecting to make it this far," he says. "Not that we had any goal in mind in particular, but that we did make it through a couple of tough times with this company is pretty exciting. All of a sudden we realize 'Hey, it's our 20th year this year' and we needed to do something about it. So we've had a couple of events and we're making a couple of limited edition items and we're having a lot of fun with it. There are a lot of people that have been with us along this road and everyone is kind of shaking their heads at the same time going, 'Wow, where did the time go?' Twenty years, just like that."

For Ford, it's the family-like atmosphere and that everyone on the payroll truly enjoys the product that seems to be the glue holding everything together.

"I'm definitely very proud of us," she says. "It's the American dream to start a company and have a company as cool as this one and as fun as this one is to work for. We all enjoy coming to work every day. It's great to be a part of something where you have success and longevity and you feel like you'll be here another 20 years."

---