Back to News
B$Z: Ipath Replants Its Roots With Renewed Focus
September 1, 2011
Ipath Replants Its Roots With Renewed Focus, Products
And The Launch of Ipath Films
Big things are afoot at Ipath (www.Ipath.com). Major plans are underway to realign the company with its unique heritage in skateboarding and re-establish Ipath as the creative, personal expression-driven brandthat made such an impact when it first emerged on the skate scene in the late 90's. Ipath is now in the process of getting back to its roots through a new video program, product introductions and a renewed commitment to originality.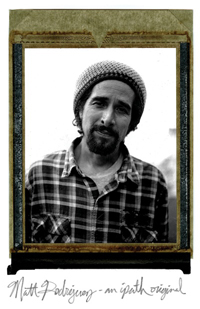 Ipath was founded with the idea to create a different type of skate shoe, a clear divergence from the over-tech direction skateboard footwear was heading in the 90's. While still performance driven, signature Ipath models, such as the Cat, looked nothing like what was considered a standard skate shoe design at the time and had strong appeal beyond the world of skateboarding. Beginning with its Spring 2012 line, Ipath will put a renewed focus on redefining what a skate shoe can look like, in addition to introducing lifestyle inspired footwear that will have off-board appeal.
Announcing Ipath Films
As one of the first pro riders on the team, Matt Rodriguez was a driving force in Ipath's direction during its nascent years. To celebrate Matt's commitment to skateboarding and his role in helping to build Ipath, he is the focal point for the first installment of Ipath Films (http://vimeopro.com/ipathfilms/mattrodriguez), a new online video initiative that regularly explores different creative personalities. In line with Ipath's commitment to skateboarding, music, art and general self-expression, Ipath Films will feature profiles of individuals who stay true to themselves in their personal or professional endeavors.
"When we started Ipath, it was all about creativity, soul riding and doing your own thing. I'm happy to see the new direction stay true to our roots and promote a positive type of skateboarding," commented Rodriguez.
Ipath is also in the process of instituting a series of ongoing, limited release collaborations with musicians and other artists who follow Ipath's focus on creativity and experiencing the journey every step of the way.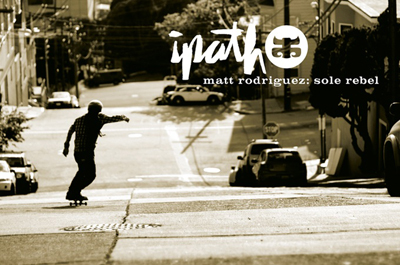 Ipath's New Operations Up And Running
The global economy and problems in manufacturing have made the footwear business difficult for manufacturers and retailers alike. Ipath's renewed focus on their roots comes in sync with the brand's emergence from a major transition on the operations side. Existing product has been redistributed to Ipath's new, state of the art warehouse facility in Ontario, CA, the new Encinitas, CA, office is now fully operational and new production facilities are in place to ensure Ipath can meet retailer expectations in seasons to come.
"During a difficult time for the global footwear industry, we've worked hard to accommodate the needs of our partners at retail. I think we've shown them that we're truly in this together and ready for the long haul," commented Ipath President Nate Smith. "When I joined Ipath, I made it a point to speak with retailers and skateboarders about the brand. What I kept hearing is that Ipath was at its best when it was different. Not different for the sake of being different, but different in an authentic and meaningful way. And that's where Ipath is going as we head into 2012."
Watch for more news about Ipath and its initiatives to come in the near future. Connect with Ipath online at:
Homepage: http://www.Ipath.com
Ipath Films: http://vimeopro.com/ipathfilms/mattrodriguez
---